Today, the Advanced class wrote reviews for restaurants they have visited. Great job, Andrea and Silke!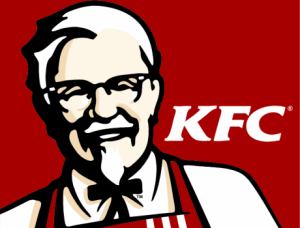 Kentucky Fried Chicken
by: Andrea
Everyone who watches Southpark loves KFC or at least they think they will. So did I even I hadn`t tried it ever before. I was superexcited when I found out there was a KFC right next to my motel. On my first evening I forced my roommate to go there. She was trying to convince me not to go because she didn`t like it at all…I should have listened.
After we arrived I asked the guy at the counter what he would recommend (shouldn`t have done that but at least he was friendly). I can`t remember exactly what I was eating but I guess it doesn`t really matter because everything was the same except they looked different.
I love chicken, I relly do, but after I took the first bite this changed immediately. Ican`t describe the taste but it was just DISGUSTING. Greasy, not cripy at all, dry…just everything you don`t want your food to be.
After, half the plate we left and went back home and now the best part of the story.
Back at home I still had this smell all over me. Sleeping was not possible that night. My stomach was going crazyand I had to throw up all night long. That has happened only once before because of an McRaclette but at least that one was good when I ate it.

Panera Bread, Santa Monica
By: Silke
If you like to eat healthy but also fast food go to Panera Bread. Try their fresh salads, if you prefer with some meat as a toppin, their soups or choose one of their tasty sandwiches.
Order one of Banera Breads Iced Green Tea as a drink. Delicious! Do you like a little dessert? They have a lot of little pastrys: muffins, scones and cookies. Add them to a meal for only 99 cents. The prices there are really okay, everythingis under ten dollars, and the staff is friendly. After just one week of visiting them every day, they even knew my name.
You have to order at the desk and then they serve you your meal. There isn't a special atmosphere, but I think it's clean there. And at least there is some free Wifi!!
Comments
comments