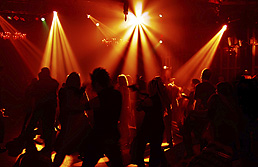 Like most large cities, Boston has a thriving nightlife. Boston has a long tradition of greatIrish pubs, and to this day the city still remains a bustling bar town. Boston has a pub to fit everyone's interests. There are Irish pubs, sports bars, bars with live music anddancing, and even pubs that have karaoke style sing-along's.
Being the home of so many sports teams it's not surprising that many of Boston's bars have a sports theme. Don't be surprised to find a more than one game playing at the bar. Some of Boston's bars offer a chance for you to pickup on the competitive spirit. Jillian's and Kings, two popular bars in Back Bay, have bowling lanes, pool tables, and dart boards for you to test your skills.
In the evening, bars and pubs in all parts of the town are filled by both college students and professionals who want to unwind after a hard days work. No matter which part of the town you're in, you're sure to find a friendly neighbourhood bar.
If the bar scene isn't for you, Boston also offers a variety of clubs, theatres, dance halls and live music venues speckled throughout the city. If you're up for dancing Boston offers a slew of places where you can hip-hop, tango, or salsa the night away. Some places even offer lessons to touch up on your skills. Why not check out our What's On guide for upcoming events in the area.
Drinking establishments usually close between 1am to 2am, but there are a few late night bars in the area. Keep in mind that the legal drinking age is 21 and this is strictly enforced. In order to get into the clubs and bars you must have some sort of Identification on you. Even people in their 30's get "carded" (asked for their picture ID) so be sure to bring some sort of identification with you.
Comments
comments