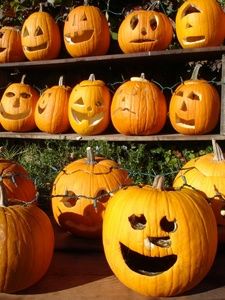 Happy Halloween!  It's October at EC Boston, and Halloween (October 31) is approaching fast.  The days are getting colder, the nights are getting longer, and the ghosts are coming out to play!  We have a lot of exciting activities on the calender this month that give you the chance to see how Fall, and Halloween, are enjoyed in America:
The October cold can make you hungry, and on Tuesday, October 6 at 7:30 pm, Stella is taking students to the famous restaurant Finale, to try some of their gourmet desserts.
On Friday, October 9th, Dustin is taking students on a Pub Crawl, visiting several bars and pubs in Boston to have a drink and ward off the autumn chill.
On Sunday, October 11th, EC Boston's newest intern Agnes is going apple picking, a popular activity in New England in the fall.
On Saturday, October 17th, Jacob is taking students to Rockport, to see a beautiful Massachusetts seaside town when the trees are changing color.
On Thursday, October 22nd, Jen is taking students to see a movie at the impressive Loews theater downtown.  Will it be a scary movie?  Ask your teachers to learn English expressions for "AAAAAAA!"
On Friday, October 23, Farika will take students on a free Fall walk, where you can feel the refreshing October air and take pictures of the beautiful autumn trees, with their bright colors of red, orange and yellow.  Americans from all over the country come to New England in the fall to take pictures of this amazing sight.
On Tuesday, October 17th, EC Boston is having a Harvest Party at 3:15 in the student lounge.  It's free, just bring your appetite!
Finally, just two days before Halloween, on Thursday, October 29, Paul is going to visit a haunted house!  Come with a friend if you're too scared to come alone, but don't worry; most of the ghosts in Boston are friendly!
Don't forget the regular weekly activities either.  Every Monday, meet at 3:30 in the Student lounge for the Neighborhood Welcome Walk.  Whether you're a new student or an old one, you can get to know the neighborhood around EC Boston.  Every Tuesday is the free Pronunciation Clinic, and Reading Club meets on Wednesdays.  For more information on any of the October activities, to pick up an activity calendar, or to ask what to do if you see a ghost, just visit the main office on the 2nd floor.
Comments
comments