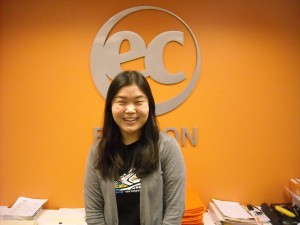 Hi, my name is Hyo Jin Kang and I am from South Korea.  I have been here for six months and I am taking the General English Course.  I live with my host family with two adorable kids! Life in Boston is wonderful for me.  I want to talk about three parts of my Boston life which are the city of Boston, EC, and my host family.
First of all, my friend recommended that this city is a good place to study English and visit some places. Before coming here, I didn't know that Boston is such an attractive city.  I think Boston is a small world, because there are various people from many other countries. Boston is the oldest city in USA so there are a lot of places to hang out with friends.  For example, the oldest park, Boston Common Park, is good to walk in especially during summer time.  There are many museums which are free on specific days.  I recommend visiting prestigious universities such as MIT and Harvard.  When I visited Harvard, it was crowded with many people because of the rumor that if you touch the foot of John Harvard, your grandchild will go to Harvard. In addition, Boston is famous for sports.  Even though I am not that into sports, Boston made me enjoy watching sports.  Last week, I went to watch the Celtics game, which is the basketball team and I had a lot of fun!
Second, when I arrived in the USA, I was suffering jet-lag and everything was new.  I didn't know what to do so I was confused.  At that time, the EC staff helped me to adapt to the school.  When I asked something that I didn't catch clearly, they explained slowly and patiently.  My favorite class was "Get Talking", which was really useful and interesting.  Nowadays I am taking "Language through Music".  It is also another favorite of mine because the teachers is really passionate about teaching us and the class is informative to understanding American music and culture.  Additionally, I am a long-term student.  It means I qualify to have academic meetings.  I have a meeting with my academic coordinator almost every six weeks.  It motivates me and tells my weak points which have to be fixed and improved.  In my case, it is helpful to have academic meetings with Sheley.
Thirdly, the best thing is the homestay.  Living alone is tough for me, but I am not that lonely because of my host family.  We all have homemade dinner every day unless I have an appointment with my friends.  On weekends, after dinner we spend time together playing board games or watching movies.  There are many neighbors near my host family so sometimes we have parties such as Super Bowl or block parties. These are good opportunities to experience American cultures and spirits.  That's why I strongly suggest doing homestay.
The more I enjoy life in Boston, the more valuable this time is.  My life in Boston is full of experiences I will never forget.
Comments
comments