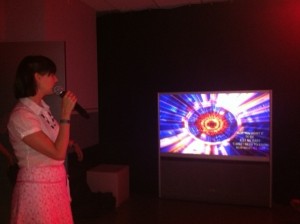 Last night Kirsten and Sheley took about 35 students out on the town for some karaoke. This is always one of the most popular events with EC Boston students and this time was no exception.
Students were treated to songs ranging from Katy Perry, Beyonce, Frank Sinatra, among others. Some of the highlights were Shin giving an amazing performance of "Incomplete", Ramsay being dubbed "honary MC" and showing all his amazing dance moves, to students doing "Single Ladies".
Check out some photos and videos below!
Watch Ramsay show the crowd his dance moves!
Students singing "Single Ladies (Put a Ring on It)
Shin showing off his amazing singing skills to "Incomplete"
Comments
comments