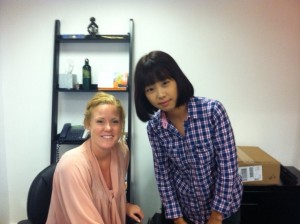 One of our Student Ambassadors, Hailey, had an interview with Casey Sherman who is the Center Director of EC Boston.
Hailey and a very great time getting to know her 🙂
Check out the interview below:
H is Hailey, C is Casey.
H: how long have you worked in EC?
C: I have worked in EC since 2010 summer. Before working in EC, I worked for Company Study Group in Brazil. At that time, I was an Sales Manager for recruiting international students who want to enter universities in the U.S.A
H : What reasons makes you work for international students?
C : When I was an university student, I had an experience that I had lived in Spain. I think it was an incrediable experience because of my homestay in Spain. Living in a spanish home made me decide to get a career in International support.
H : How many lauguages do you know?
C : Three languages including English. I can speak Spanish and Protuguese but  in terms of speaking these lauguages my level is Intermediate.
H : What is your goal this year?
C : I want to become a tourist in Boston. I'd like to explore Boston such as going to Cambridge and Somerville to make friends. You know, If people lived somewhere, they could know very well what place is good or what area is fun. I mean we just stay there for a living.
H : Do you have a moto for your life?
C : Explore And Discover. Be curious about new people and food. Be involved with culture.
H: It is a last question. Could you tell EC student what they have to do to improve their English?
C : Studying English in only class isn't enough – you'd better practice English outside of class!
I'm proud of EC students because they are very courageous to travel in U.S.A. You should practice English all the time!
Comments
comments