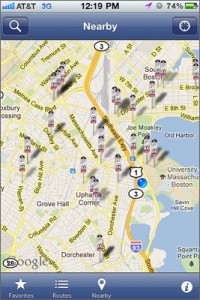 A simple and intuitive Massachusetts Bay Transit Authority application for the iPhone and iPod touch. Now supports all lines!
– Get arrival times based on actual vehicle locations (powered by NextBus)
– Find the stops closest to you
– Find stops near an address or intersection
– Add favorite routes and stops, and view their arrival times concurrently
– View map locations of routes, stops, and vehicles
Arrival times can be accessed using WiFi, 3g, and Edge. Route and stop information is saved on your device so you can view them offline. If MBTA has a major route change, simply press one button and Pocket MBTA will download all of the updates.
IMPORTANT NOTE: Vehicle locations are not supported for every line. This will NOT affect the accuracy of displayed arrival times.
Comments
comments