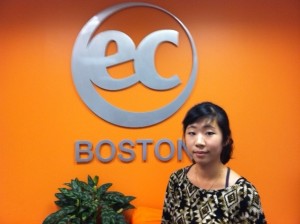 Read what Hye Ji says about her time here at EC Boston:
"Hi! My name is Hye Ji Park. I'm from South Korea. I've been at EC boston since Februrary, so it is almost 7 months. First when I came here, I was nervous about everything. Actually, I missed my flight when I transfered to go to Boston at Chicago. Since that moment until I stepped into EC, I felt uncomfortable. I was worried about speaking in english, also worried about making mistakes. My first level was intermediate. After two weeks I had a level test and I moved to upper-intermediate level. I've learned how can I use english like american spearkers. Usually the class uses books, otherwise I enjoyed with other topics which teacher brought. And we talked about this topic in class. sometimes the topic would be a politics, cultural things or whatever you want.  EC has good facilities and teachers. During studying in upper-intermediate, I decided to go to the toefl class. In fact I really satisfied the toefl class. A teacher prepared curriculums perfectly every day. So I could practice TOFEL test as much as that I want. Also, I made a lot of international friends. I used to hang out with them, having learned about different cultures. I've met students who come from Korea, Japan, China, Taiwan, Mongolia, Saudi Arabia, Switzerland, Germany, Italy, Spain, Columbia, Venezuela and etc. I can't count all of these countries. I'm sure that there are so many people who come from variety of different countries in this school. It will be a great opportunity to meet different countries. Sometimes we misunderstand each other, but I always think that this would be one of the experience for my life.  I'm definately going to miss EC. I will miss my friends, teachers and EC staff too.
Thank you for everything EC.
Thanks to all my friends and Brett, Timothy, Jess, Kirsten, Fabiana and all teachers."
Comments
comments