Read what Saleh has to say about how much his English has improved since he first came to EC Boston!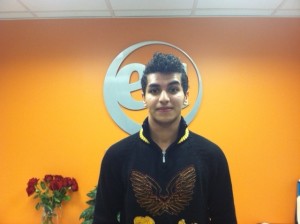 I came to Boston to complete my studies,  also I want to learn English. When I came to Boston I was not able to speak with the people. I was know only two words, "I want and I need." I started in the beginner level. And began the study of language in English. And started my language in the evolution with ( EC BOSTON).

With time, I used to make a range of vocabulary and new words. I felt a much better to talk with people and I can understand what is being said to me. then  I moved to the Elementary. Began to focus with teachers and also tried to focus on reading and writing even improved my skills in reading and writing.

After my success at the Elementary level, I moved to the university programe. University program in fact was very nice and helpful. I Developed and improved my level of writing and reading in the university program and got on the skill of how to write scientific research. Also I got to know the cultures and history of America.

After that I went to the IELTS, because I want to test the IELTS. With time, I improved in writing and also reading. The teacher was excited to teach us new things such as writing reports and writing the photographic. Then I took IELTS test and I got a high score. And now I'm here at the school I want to practice my English with my colleagues, my friends, and also with the teachers at the school. Now, I have to practice the accent of America.

In fact I like this school a lot and I like all the teachers and friends. Because I had learned the other language in this school. And all the flags and all the friends like brothers in one place. Everyone in this school loves makes a lot of friends. I hope that my English is evolving for the better in the coming days.
Comments
comments