Hello and welcome to our school! I am Jen and I'm the Assistant Academic Director at EC Boston. Before I began working here, I taught English in several countries around the world, and I can say with all honesty that EC Boston is a *great* school! All of the teachers are incredibly knowledgeable, the administration works hard to make it all run smoothly, and best of all, the students bring such diversity to the place.
There is no place better to study than in Boston, where you will find anything and everything to do. You can try out your English at a weekend market, take a class at one of the many universities, or cheer on the Red Sox at Fenway Park. You name it, Boston has it. My favorite thing to do in my free time is to go to Chinatown. The restaurants there are all delicious and have not only Chinese food but Vietnamese, Thai, Indonesian, Korean and Japanese. My favorite is called Pho Pasteur, at the corner of Washington and Beach Street – the soup is amazing! Also, you can do some shopping at the markets there, where you will find a wide variety of clothing and food items; maybe even some from your own country. A good store is C Mart on Beach Street, which has a lot of fresh fruits, vegetables and dry goods.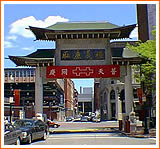 To get to Chinatown, you can take the T to Boylston station (Green Line) or Chinatown station (Orange Line).
Happy Shopping!
Jen Carter
Comments
comments