Before I go back to Turkish, I would like to share my experience at EC Boston, it might help others students!
I hadn't known too much about Boston before I arrived here. When I meet the staff at EC in my first day of classes, I could immediately realize that it is a very friendly place. The teachers are very friendly; actually they really become your friends. They used to organize a lot of fun activities almost every day. These activities are great for you might to meet new people and to practice your English. Moreover, I have had the chance to experience living in a host family which contributed a lot for my learning process.
I could feel that my English has improved noticeably since I arrived at EC Boston.
Boston is an awesome city!
The people are very approachable and kind. I always meet people on the subway ("T") through school and home.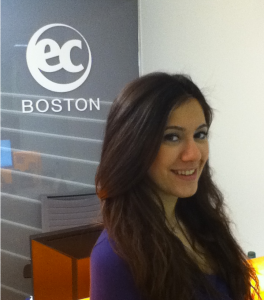 Didem Dogan
From Turkish
Comments
comments