New in Boston or you are running out of ideas of things to do in the city?
Two wonderful neighborhoods are awaiting just a few minutes walk from EC Boston.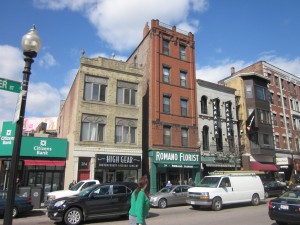 One of them is situated north of the Boston Common and the Public Garden: Beacon Hill. The second one is north of EC Boston and is called the North End.
Beacon Hill will make you travel through time and offer you nice little streets, lined with red brick houses, gas streetlights, little gardens, and, most of all, now that spring is showing up, arches of trees in bloom will give you an amazing mix of colors in the streets. This neighborhood will allow you to discover the area of the 19th century "Boston Brahmins", as they were called, but also the place where The African American Civil Rights Movement started. Do not miss Charles Street and its nice cafés (Paramount, Panificio…), antique shops, but also some design and decoration stores. This neighborhood is close to Boston's parks but also close to the Esplanade, which will give you a nice view over Boston and a pleasant spot for a picnic. Don't miss its smallest street: Acorn Street and, of course, take a little detour the State House and its golden Hub. Beacon Hill is a charming historical neighborhood that will take you away from crowded places, stress and rock you into a European atmosphere such as the one you can find in London's Notting Hill for example.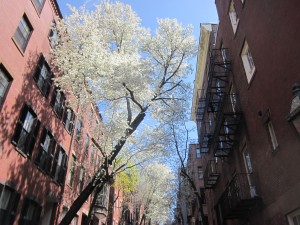 The second neighborhood that will also make you travel through time and cross the Atlantic is the North End. The North End, often referred to as, Boston's "Little Italy" will make you plunge into an Italian atmosphere only within a few seconds. You will see numerous Italian restaurants, gelaterias and cafés. It is one of the oldest neighborhoods of Boston and it will lead you to discover some of Boston's key historical events. Maybe the most famous places, though, are the two confectioneries on Hanover Street: Mike's Pastry and Modern Pastry. Both are the same in quality. There you will be able to taste amazing pastries such as cannolis or cupcakes!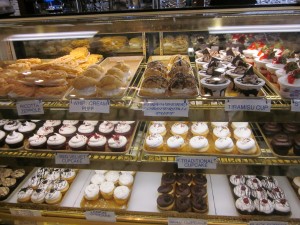 Walk along Hanover Street and then back on Salem Street and you will be somewhere in Tuscany or Campania!
Both neighborhoods are worth visiting while your are in Boston and you have no excuse not to go there and take a walk, as they are so close to the school. No need to bring something except for a camera and a few dollars for a cappuccino or a slice of pizza!
Comments
comments