THIS WEEK we sat down with Ya Ting Ku from Taiwan.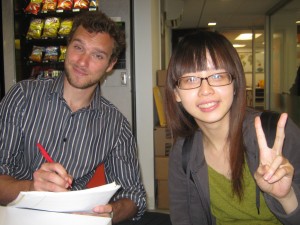 R: Ya Ting, where in Boston do you live?
YT: I live in Allston in the EC apartments?
R: How do you like your neighborhood?
YT: I can cross the street and take the T… very convenient!
R: What's your favorite part about Boston?
YT: It's very beautiful, especially at night.
R: Why at night?
YT: There are a lot of lights!
(laughs)
R: If you could be in a movie, which movie would you be in?
YT: Harry Potter.
R: Why Harry Potter?
YT: Because I want to have magic.
R: What would you do with this magic?
YT: If I didn't like someone, I would change him into a pig!
(laughs)
R: And what would you do to me?
YT: Teachers are good so I could give you money!
R: (laughs) That sounds good to me!
Comments
comments