I'm sure you've heard about New York the largest city in the United States many times, correct? I've been living in Boston for more than 3 months, but I had never been to New York before, even though it only takes 4 hours from Boston. Finally I got a chance to go to New York with a friend of my. I really looked forward to traveling to the Big Apple and thought everything in there would be awesome.
We have been to many tourist places and it was so much fun. I can't stop thinking about this trip; New York is totally different from Boston and I want to share some unforgettable memories with you guys. So, I am going to tell you about the Brooklyn Bridge, ShakeShake burger and the Empire State Building which are the most memorable place to me.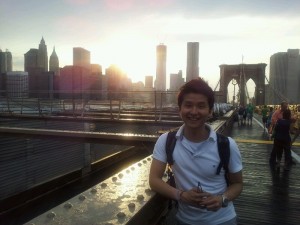 We went to The Brooklyn Bridge on the first day. It is one of the oldest suspension bridges in the United States and connects the borough of Manhattan and Brooklyn by spanning the East River. It looked so old because it was completed in 1883. However, this is the most beautiful bridge I have ever seen because it was the first time I had seen a wooden bridge. There were already so many people who were enjoying the sunset on the bridge when I got there. I couldn't stop saying "This is awesome" while I was crossing the bridge. Undoubtedly, you should go there.
After seeing the bridge, it suddenly started to rain. So, we needed to take shelter from raining so we went directly to a burger restaurant. Luckily, that was Shake Shake Burger which is very famous in New York. Honestly, I don't like eating burgers so often because I had heard that burger are bad for our health. However, the taste of the food was totally different from others' (ex. McDonald's, KFC, Burger king, etc.) the flavor was the best I had ever eaten. There are only seven restaurants in New York. As a result, sometimes you have to take a big line and wait for a long time to eat the burger there.
So for a burger that hits the spot, stop by Shake Shake Burger.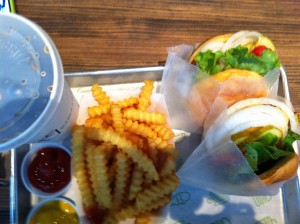 At the night, we went to The Empire State Building to enjoy a night-view it was definitely amazing!!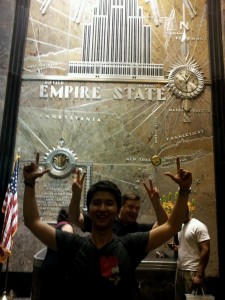 The three places which I wrote about above are very nice, but there are countless other beautiful places in New York to enjoy. If you recently think your life are monotonous. Go to New York and have fun!
If you have any questions about a trip to New York, just find me, I'm in High Intermediate 1B level.
I would like to be a friend with all of you.
Hyunjun Kwon
EC Boston Student Ambassador
Comments
comments