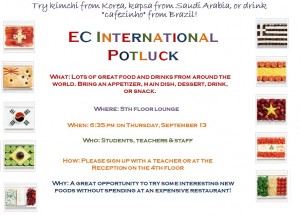 EC Boston will be hosting an International Potluck here at the school next week, on Thursday!
A potluck is an American tradition where every person that attends the event brings a dish that they prepared. It can be an appetizer or small dish, a salad, an entree or larger dish, even dessert! Our international potluck will feature dishes from all of the countries that our students come from!
This event will be so much fun and depends on the participation of all of our wonderful students! Come sign up at the front desk and tell us what tasty treat you'll be bringing!
Comments
comments