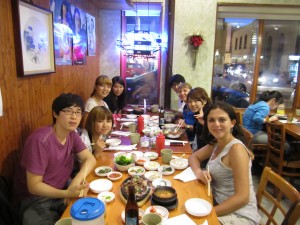 A few weeks ago, teacher Marina took her Intermediate 3B students to the Korean Garden restaurant in Allston to try all of the delicious cuisine.
"It was very spicy but good," according to Marina.
Others said, "I would have to say this is the best Korean restaurant in town!"
The restaurant, which is very close to the apartments where many EC Boston students live, also got very good reviews on Yelp! Yelp is a website that lets you see what other people think about restaurants, movie theaters, and even hair salons so you can decide which one to go to.
Comments
comments