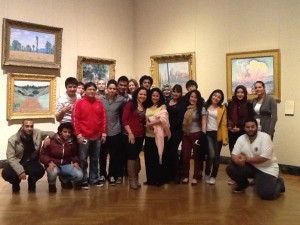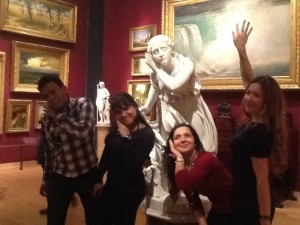 EC Boston students joined teachers Marina and Anna at the Museum of Fine Arts last week.  The Museum is located on the Green "E" line train, at the Museum of Fine Arts train stop on Huntington Avenue.  Full price tickets cost $25, but every Wednesday after 4:00 pm, there is free admission to the Museum!  You should definitely check it out before you leave Boston.
One EC Boston student who joined the group at the Museum that day, Baidya, wrote the following about her experience:
"I went to the Museum of Fine Arts with my teacher and it was a good day because art is a very nice thing to see.  It is like when someone wants to say how they feel about something in life.  I saw many paintings that make you feel something when you see them.  I didn't like art before, but when I went to this museum I saw that everything in it was nice.  Now I love art.  It is good to go to museums to know more about famous people or cultures from many years ago.  It was so nice."
So, it looks like EC Boston students recommend the MFA!
Comments
comments