Winter is often the most difficult time for students in Boston.  It's cold, dreary, and gets dark so early!  Lots of people start to feel "seasonal depression" and this can cause further problems like homesickness, poor attendance at school, or a lack of interest in social activities.  Beat the Winter Blues with some of these ideas for Winter Activities in and around Boston!  The best thing about these activities is that they're not too expensive, and they'll help you get to know new places around the city.  Before you know it, Spring will be here…
1.  Enjoy a soft drink or a cocktail at the Top of The Hub Restaurant (the 52nd floor of the Prudential Tower on Boylston Street).  The Prudential building is one of Boston's tallest buildings, and because the John Hancock observation tower has been closed ever since 9/11, it is currently the highest point you can access for views of the city.  The Top of the Hub is an elegant and expensive restaurant, so dress nicely (no sneakers, hooded sweatshirts, or ripped jeans), but you can visit at any time for a quick drink at the bar without reservations.  The restaurant offers unparalleled views of the city of Boston.  I personally think the best time to go is right before twilight (go around 4 pm).  That way, you can see views of the city in the daylight AND at night, with all the city lights twinkling.  Order a beer or a cocktail at the bar for less than $20, and you have a lovely spot to spend a cold winter afternoon!  Or, if you decide to go at night, you can enjoy a free, live jazz band that starts playing every night around 8 pm.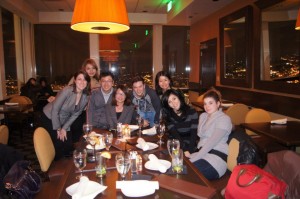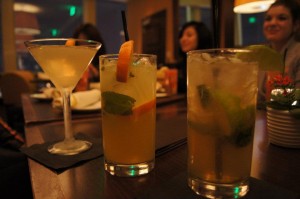 2.  Visit MIT's Museum at 265 Massachusetts Avenue in Cambridge (Red Line train to Central Square Station).  Harvard University and MIT are some of the world's most famous colleges;  aren't you lucky to attend school in a city with such high academic standards?  If you have nothing to do one winter afternoon or weekend, go visit the MIT museum!  It only costs $8.50, and is open daily from 10 am to 5 pm.  Or, if you go on the second Friday of the month, it is FREE from 5 to 8 pm.  At this museum, you can see lots of really cool scientific and technological exhibits, and you can also see real projects done by MIT students like robots and machines.  Hopefully the museum visit will inspire you instead of making you feel NOT very smart compared to MIT scholars!
3.  Window Shop on Charles Street in Boston (get there from Charles/MGH station on the Red Line Train or Boylston Station on the Green Line Train).  Charles Street is one of Boston's most charming little "European-style" streets.  Even if you don't have a lot of spending money, it's enjoyable just to walk up and down it and look in all the shop windows, or go into the shops to browse!  You can find antique shops, jewelry stores, and cute cafes and bakeries.  Newbury Street is one of Boston's most popular shopping locations, but Charles Street is definitely more charming in my opinion.  Stop in for a coffee to warm up in the French style Cafe Vanille (70 Charles Street) or finish your walk at Toscano (47 Charles Street), a small Italian eatery where almost all pastas, pizzas, and appetizers are under $20.  Make sure you dress warmly for your walk outside on a chilly day, and try not to spend too much in all the cute shops!
4.  Jump Away the Winter Blues at SkyZone in Everett at 69 Norman Street.  Skyzone is a huge, indoor trampoline park.  Check it out online at http://www.everett.skyzonesports.com/Home.aspx.  You can get there by taking the Orange Line Subway from State or Haymarket Station (near EC Boston) to Wellington Station (about 8-10 minutes) and then walking 10-15 minutes to Skyzone.  See the walking map here:  https://maps.google.com/maps?saddr=Haymarket+Station&daddr=Sky+Zone+Indoor+Trampoline+Park,&hl=en&ll=42.40245,-71.069269&spn=0.00984,0.026157&sll=42.38442,-71.067655&sspn=0.07874,0.209255&geocode=FY1ohgIdjrzD-ylXyqwMj3DjiTEXyKvPhHVJqQ%3BFcAXhwIdgZXD-yFc2cyo0Ufs4ylr7jKJE3HjiTFc2cyo0Ufs4w&oq=hayma&dirflg=r&ttype=dep&date=01%2F09%2F13&time=12:00pm&noexp=0&noal=0&sort=def&mra=ls&t=m&z=16&start=1
You can choose to jump for 30 minutes, 60 minutes, 90 minutes, or 120 minutes, all for under $20.  Believe it or not, you'll be tired after just 30-60 minutes!  It's a fantastic workout!  There are organized Dodgeball games, foam pits for flipping into, and huge expanses of trampoline just for basic jumping.  Make sure you wear socks, because you'll have to rent special jumping shoes from Skyzone (included in the jumping price).  Skyzone is closed on Mondays, but is open 3-8 pm Tuesday, Wednesday, and Thursday, 12-11 pm on Friday, 10 am – 10 pm on Saturday, and 12-8 pm on Sunday.  You'll be surprised at how great a little bit of exercise can make you feel on a dark and dreary winter's day!
5.  Lead your own Chocolate Tour around Boston!  What better way is there to warm up in the winter than with some delicious chocolatey treats?  There are several great locations in the same area in downtown Boston.  Stop into each shop for a sample or one small piece of chocolate and rate each tasting until you find Boston's best chocolate.  You'll be sure to enjoy some wonderfully satisfying treats without spending too much.
L.A. Burdick Chocolate is a new shop, at 220 Clarendon Street.  It's just gorgeous from the outside, and looks very warm and inviting.  Check it out!
Lindt Chocolate is located just around the corner at 704 Boylston Street, inside the Lenox Hotel.  The staff there are usually happy to give out samples of their famous chocolate tuffles, and if you want to try more than one, you can buy a few more!
Max Brenner Restaurant, located at 745 Boylston Street is an entire Restaurant dedicated to chocolate!  There is a chocolate shop inside, but you can also sit at the bar and order one of their decadent desserts to share (for about $12-15 for one large plate).  Even the air inside smells like chocolate!
Finish up at Finale, at 1 Colombus Avenue at the Park Plaza.  You can taste one of their many rich and decadent hot chocolates for about $5-10 each, or share another dessert.  Luckily, you'll be within walking distance from Boston's Public Gardens and the Boston Common Park at this point, so you can briskly walk off some of those extra calories!
Don't forget to stay active this Winter and get out of the house!  Even though it's cold and dark outside, staying in and sulking doesn't help matters at all.  As long as you dress warmly enough, there's no reason you can't enjoy some of the fun activities this city has to offer.  Take advantage of these ideas and offers here, invite a new friend to go along, and have fun!
If you're interested in learning about even MORE winter activities in Boston, check out this article from Boston.com with 25 additional ideas, all for under $25!  http://www.boston.com/travel/boston/gallery/25_under_25_winter/
Comments
comments