Do you like pizza?  Of course you do, who doesn't?? You may have heard of Chicago deep dish pizza and New York style pizza, but here on the South Shore of Massachusetts we also have our very own type of pizza! Usually referred to simply as "bar pizza" it can be found in most bar/restaurants on the South Shore. The South Shore is the name for all the cities and towns on the coast south of the city of Boston, starting with Quincy and going all the way down to Plymouth. Typical bar pizza is usually small with thin crust and just enough grease. The cheese and toppings go right to the edge of the pizza and it's usually crispy around the edges. Some of the best restaurants to get bar pizza include the Lynwood in Randolph, Cape Cod Café in Brockton, and Alumni Café in Quincy.
One restaurant that is easy to get to from EC Boston is Hancock Tavern in Quincy. Just take the Red Line towards Braintree and get off the Wollaston stop. Hancock Tavern is just a quick walk down the street located at 668 Hancock Street. Directions can be found here: http://maps.google.com/maps?hl=en&tab=wl . The delicious looking pizza pictured here is from Hancock Tavern!
Take it from a South Shore native…you don't know what you're missing until you try bar pizza!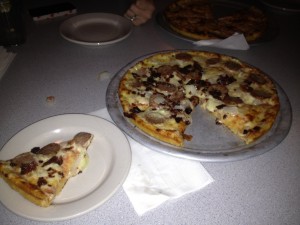 Comments
comments