The Pre-Intermediate 2A class from EC Boston has compiled a list of the best movies, songs, EC Boston activities, and more from last year. Check out their favorites and be sure to add your own too!
Songs
"Someone Like You" by Adele
"One More Time" by Akon
"Rolling in the Deep" by Adele
"Gangnam Style" by Psy
Movies
We recommend these movies because they are different genres and have different ideas.
The Hobbit
One for the Money
Paranormal Activity
The Man with the Iron Fist
Skyfall
Cars
Many people buy these cars because they are comfortable and have a classic design.
Porsche
Honda
Toyota
Ford
Chevrolet
Sports
London Olympics
Celtics
Real Madrid
WWF
EC Activities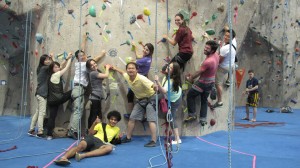 Rock climbing
Holiday Dance Party
Karaoke
Six Flags
Celtics Game
Phones
We like these phones because they are easy to use and we can contact friends anytime.
Samsung
Iphone
Blackberry
HTC
Games
We recommend these games because they are cool.
Resident Evil 5
Dead or Alive 5
Assassin Creed 3
Ninja Gaiden  3
Comments
comments