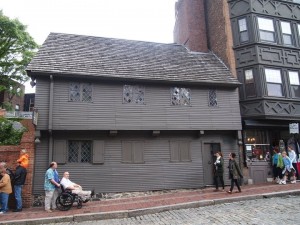 "Listen, my children, and you shall hear,
Of the midnight ride of Paul Revere"
These famous words from Henry Wadsworth Longfellow's poem "Paul Revere's Ride" are well known to almost all Americans. But not all are fortunate enough to have the famous American patriot Paul Revere's home in their backyards!
Paul Revere was a silversmith from Boston who was an active member of the Sons of Liberty, an organization dedicated to the Revolutionary cause against Great Britain. He is most famous for his part in the American Revolution and his midnight ride. On April 18, 1775 he left the city in the middle of the night and began riding to Lexington to warn Samuel Adams and John Hancock that British troops were planning to march.
Paul Revere's house is a very rare example of what a city house built in the 17th century would have looked like. It was originally built in 1680 for a rich merchant, but Revere moved into the house in the fall of 1770.
The Paul Revere House is located at 19 North Square in the North End neighborhood of Boston. It is open to the public Tuesday to Sunday from 9:30 am to 4:15 pm and entrance is only $3.50. You can walk to the Paul Revere House from EC Boston in less than 10 minutes! It is also very close to the EC Boston student apartments at 196 Endicott Street.
Visit the Paul Revere House today!!
Comments
comments