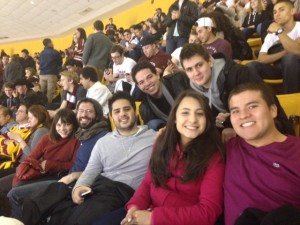 On Monday, February 4th, EC students attended the annual Beanpot Ice-Hockey Tournament at TD Garden!! The event, held each year between four Boston colleges, drew thousands of spectators for the first round of play. Harvard, Boston University, Northeastern, and Boston College played the first round, with Northeastern beating B.U., and Boston College besting Harvard in very exciting games.
The event, which is held annually around this time of year, is for Boston bragging rights and the beanpot shaped trophy! The tournament was first held in the 1952-1953 season, when Harvard won against B.U. Since then, the B.U. Terriers have won the most titles, a total of 29 times, followed by the B.C. Eagles (17 wins), the Harvard Crimson (10 wins), and the Northeastern Huskies (4 wins).
Tonight's final at TD Garden marks the end to the 61st Beanpot. Northeastern will play B.C. for the title, while B.U. will play Harvard in the consolation game (for 3rd & 4th place). The games usually sell out, and since B.C. is last year's winner, tonight's game promises to be very exciting!!
While there on February 4th, students learned how to cheer and 'trash-talk' in English (thanks to a group of friendly Harvard fans), and they were lucky enough to be put on the big screen 3 times in 20 minutes!!
Here's to tonight's exciting final – when we will learn who next gets the trophy and who holds the city's bragging rights for yet another year!
Comments
comments