Reading the travel blogs below will take you on a journey to some of the most memorable places EC Boston students have traveled or want to go, including Sri Lanka, Brazil, Cuba, Italy and more...  These blog postings were written by students in teacher Christi's Upper Intermediate 1A class!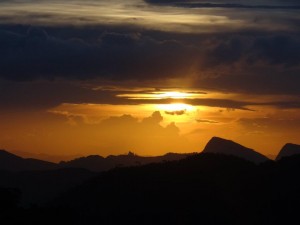 Photo by Christi Lacerda
The Secrets of Brazil by Mayara from Brazil
A tropical paradise! That's how we can describe Natal, the capital of Rio Grande do Norte, in the Northeast of Brazil.
Astonishing beaches with blue sea and white sand attracts thousands of tourists every year, foreigners and Brazilian people who come from other states and look for an unforgettable vacation and a lot of stories to tell.
Natal is also a place for those who enjoy a huge adventure. You can go to the different points of the most famous beaches, Pipa and Genipabu, on a buggy or on a dromedary back, have a privileged view and feel like you are in the desert for a while.
If you are not interested in adventure, you can sun bathe and order a mangaba ice cream, a caja juice or some siriguelas, a typical fruit from the northeast of Brazil.
You cannot miss the opportunity to go to the centre of the town and try the local food: tapioca, batata doce ("sweet potato"), cuscus, and have for lunch some, "macaxeira" and some "baiao de dois", a delicious dish prepared with beans, rice and a special meat called charque.
For dessert enjoy a little of everything: pacoca, potato, banana and guava sweet!
If you wanna do some shopping you can buy a lot a lot of Brazilian craftworks to give to your friends when you come back come home. They are cheap and everybody loves them.
When I went to Natal I got enchanted by those fascinating 400 kilometers of sea shore and by the high temperatures that persist 12 months per year, no matter the season. You will always find warm sun and warm people waiting for you at Natal.
When I did the trip to that place, well…it had a special meaning for me. That was the first time I saw a great and huge part of the family in ages. And I got to know some people that were really close and important to my mother, during her childhood. My mon came to Sao Paulo when she was just a little girl, so visiting the places where she was born, where she lived with my grandma (who died really early) and where she used to have fun with her friends was amazing. It was like travellling to my mother's past and seeing everything she saw and living everything she lived.
Traveling to Rio Grande do Norte was also the funniest adventure of my life. We drove for more than one thousand kilometers from Sao Paulo to get there. So we ate all kinds of food, slept at all kinds of hotels and got to know to all types of people. I had the opportunity to see, personally, the beauty of every place we have visited: Minas Gerais, Bahia, Sergipe, Alagoas, Pernambuco, Paraíba… and understand why my country is so beautiful. Because it breaths life!
If you are planning to come to the World Cup, in Brazil, next year, do not miss the chance to watch a game at "Arena das Dunas", in Natal. And when it is over, take the chance to know not only Rio Grande do Norte, but the whole country by car. You will probably find places where we have never been and secrets have never been told.
—
Sri Lanka by Abdullah from Saudi Arabia:
When I wanted to write my experience about one of my trips I couldn't decided which country I should write about it. In fact I've been to many places most of them were exiting. So,finally I chose Sri Lanka to talk about.
First of all, my trip was in 2009 after one of my friends highly recommended me to go there. At that time I didn't have any plan for that summer vacation when it had already started. Then I checked if there were available flight tickets because I knew that most of them had already booked in advance, but actually I found one with cheap price too.
After that I traveled without hotel reservation. I know that sounds crazy, but always I believe that the most exciting trips usually would be with no plans.
My first day started at the airport when I was looking for a hotel and car to rent. I was surprised by prices and I found it cheaper than I expected. So I saved almost half of my budget because of that I decided to spent my first few days at Colombo which is the capital and it has the biggest malls. So, I spent those days shopping. I bought a lot of clothes especially some famous brands that were made locally because it was cheaper than my country by 75%.
For the next five days I traveled to three other cities. Each of them had different things and activities that I enjoyed also had different weather . In fact, all of them were great. I spent good time in cold weather and watched the most beautiful waterfalls I've ever seen in my life in Noralia. In Bentota I enjoyed water activities because the city is located in front of the sea. But my most exciting and fun time I spent it in Kandy ,which is the second bigger city in Sri lanka, I took two safari trips, one of them was by jeep in jungle and the other was by elephant.
Finally, I won't forget to tell you something interesting I found about Sri Lanka because they have many official religions they have a different carnaval almost each week.
-----
Cuba by Mariia, a Ukranian student:
My boyfriend and I decided to travel to Cuba two years ago. As we arrived to the airport of Havana we unpacked our things and went to the most famous bar in Havana "La Bodeguita del Medio". This bar is completely painted with autographs of people, even Ernest Hemingway's autograph was there. We tried Mojito it was good enough.
As we finished we went to Ernest Hemingway's house which was built quite modern, white walls , nice kitchen and good dining room. In one of the rooms was an animal trophy. And because we had some friends in Cuba, rangers of museum allowed us to go to the close side of the museum. There was a nice boat, we got to touch it, it was great.
Then we went to the government building, no people from Cuba were allowed there. The houses were huge with gold doors and gold ornaments, I can tell that people in this building live pretty well despite regular people who lived regular life. Their minimum wage per day 3 dollars, and despite this they all were looking happy.
Then we went back to the hotel to smoke big cigars, drink something and to eat. At the evening we went to the club, it was really funny. There was a huge show with half-naked women. One of them stole my boyfriend to dance. I laughed a lot because my boyfriend did not know how to dance .So what I can say.... It was nice trip, I will never forget it.
---
"Obligation List" by Ismer from Venezuela
If you try to think in the things that you should do before you die I am sure you will have a huge list, but have you think in which places you should be before you die?
Well, we know that nothing is more exciting than travel to another country, where you can taste different cultures that make you discover no only about others lives, it would make you know a little bit more about yourself.
It's a place for me to introduce you to my obligation list where you will find all the places that I need to visit before I die:
1. Israel. This is a controversial city, different religion, different customs, but also this is the country where Jesus Christ was born.
2. I love nature that is why I will visit Madagascar, the island where you may find some animals that you won't see anywhere else. A place where you can smell all different natural aromas, a place where you can breathe real pure air, a place to hear all the beautiful songs that the animals can sing for us.
3. When you hear Peru it does not sound really interesting but, have you hear about Machupichu? I need to go there and watch with my own eyes all those architecture that there is. Just imagine for a second how traveling will be not just to a new city, also traveling to the past and understand diverse ways to see the world.
4. Ghana, for sure, is one of the places that I will visit. Specially SeKondi-Takoradi, because it is the closest point to the middle of the Earth. The point where the Equator and the Meridian meet. Gulf of Ghinea.
5. Finally I can't die without visiting Nepal. The country surrounded by the two most biggest countries around the world and also the largest population. So close but also so different perspectives about life.
—-
"My trip to Rome" by Ahmad from Saudi Arabia
It was always a childhood dream to visit a fabulous country like Italy. I started my flight to Rome and I was lucky to spend my days at a four star hotel in the heart of the ancient city.
When I was roaming its streets I had the feeling of amazement. By the way, it wasn't hard for the old city to stun me with its beauty, from the old pavements that I could see (not read for me!) the cobblestones sprinkled with writing of the Romans.
I cannot miss visiting the Vatican City of course, which was full of the work of the most famous artists of all time. From the first sight I was taken by the huge building I had always seen in the media. It was (St. Peter Cathedral) that huge magnificent building with its numerous statues . Of course I didn't forget about the beautiful fountains everywhere surrounded by lovers hoping for a happy life, throwing coins and making wishes .
And when we talk about Italy we cannot skip the food ,since I am a big fan of Italian food such as pizzas and pastas . I was continuously ordering with my two best friends greeting only in Italian and ordering in English ! The pizza there is really different: it was small and thin and really simple and delicious ma be because it wasn't bought from a big fast food chain restaurant .
Last but not least ,the coliseum. Some people might think it represents a symbol of violence and greed for blood from that era. Meanwhile to me it was really mind blowing and I couldn't hold myself so I asked my silly questions (how did they built it at that time ?) Apparently it took them ten years to build it . It was similar than a football stadium but covered up with the art of the Roman architecture
I will never forget this city .
—
My first time at a Football Game by Christian from Colombia
One of the things that I had in mind before I came to USA was to attend a football game. Like the majority of Colombians, I am a passionate soccer fan even if it is the only popular sport in my country so it is really difficult for us to see another professional sport.
I began seeing football on TV two years ago with my brother. In Colombia you can only see one game per week because all the sports channels are concentrated in soccer so in the beginning it was almost impossible to understand the rules of this particular sport. After a long time, finally, I not only understand the game but also I enjoy it even in some occasions more than soccer.
Now in Boston, I had the opportunity to see a real game, I confess that it was a little expensive but I will never forget it. The game was really special because it was the first playoffs match of the Patriots against the Houston Texans. I had bought the football T-Shirt of the Patriots quarterback Tom Brady and finally, I took the train on direction to Foxboro (a small town close to Boston where the home of Patriots, the Gillette Stadium is located).
It was amazing to see that wonderful and big stadium with 65,000 people dressed of blue. The fireworks, the music, the beer, the food and the cheerleaders gave the feeling of be in a big party and not in an important game. It was really strange for me, because when you are seeing a soccer game in the stadium you can see that all people are so concentrated in it, but for Americans is very different, it is not a game it is like a social event where you share time with your family and friends. You spend more time in the long lines of restrooms or stores and finally, you aren't worried if the Patriots win or lose (They were the winners in this game).
I will forever keep the T-Shirt with the number 12 that symbolizes the first time that I saw a different sport than soccer and the first time that I visited USA.
Comments
comments