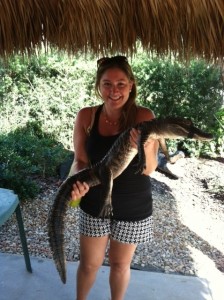 1. What is your role in EC and how would you describe a typical day?
"My role is Assistant Center Director. I manage the Accommodation and Student Services departments. I'm mainly involved in operations, and my day-to-day routine varies a lot.  Weekly, I hold one-on-one meetings with staff members, and often help to work through challenges in accommodation while supporting Lucy and Rebecca.  This year I am also very involved in the summer planning of our Junior Program and I am often responsible for vendor contract negotiations."
 2. How did you get started in this position and at EC Boston?
"I started with EC as an intern in college. I had the opportunity to assist in so many areas such as host family placement, testing and orientation, running the Kids Program, and assisting with the Junior Program.
Since then I have had many great experiences, most recently as Center Director in Miami, FL, covering a maternity leave. EC Miami is very different—it's interesting how the nationality mix changes the vibe of the school. At EC Miami there are many students from Switzerland, Russia, and throughout Europe. (Kaitlin's Russian came in handy here!). Also, about 30% of the students are over 30 years old. All in all, it was a great opportunity to train and learn.
3. What is the best or most rewarding part of your job?
"My favorite part of my job is managing people and seeing their projects grow. For example, Rebecca recently presented at the National Association of Foreign Student Advisers Conference in Portland, ME and it was so exciting to hear her experience at this event as she was a presenter as well."
4. What was the best or most interesting travel experience you've ever had?
"The most interesting place — to other people— I've ever been is Moscow. Living in Moscow was the most unique travel experience because it's not like Europe, but actually my favorite city in Russia was Volgograd. There's a lot of history from World War II and it was interesting to hear about this important time from a Russian perspective."
5. Any favorite EC activities?
"Well, I'm a huge sports fan, so I'd have to say going to a Red Sox game. Not only do you get to enjoy watching baseball and singing "Sweet Caroline," but you also get to share the background of the game with people who haven't experienced it before or don't know much about it."
Comments
comments