EC Boston has a great program that helps connect international students connect with native English speakers to practice their English and share their interests. CPP is a 10 week program in which students meet with their partners for at least an hour a week. This program gives students an opportunity to meet new people and try new things in Boston. As an English language school in Boston, EC Boston is able to get a diverse group of English speaking volunteers to work with EC students. The next cycle starts on April 22 so interested students should stop by the front desk to sign up!
Kendy, from Taiwan, shares her special experience with this exciting program:
"My partner, Chardai, is an outgoing and friendly girl, who is a student of Northeastern University. Our first meeting was in Starbucks, we introduced ourselves and chatted. She was so kind, that she said she would like to help me to improve my weaknesses in English, and she did help me in the next appointment. As you know, time always ticks away fast when we're having fun. We had a really great time getting to know each other.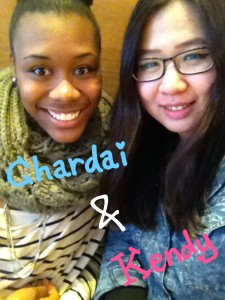 After the first meeting, I was looking forward to the second appointment. Both of us love Japanese food, so we decided to meet at the Japanese restaurant, which is near Northeastern, called Symphony Sushi. Before the dishes came, I taught her how to use chopsticks. She is a talented girl, and she correctly used chopsticks to eat sushi successfully!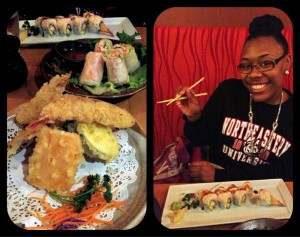 After our meal, she took out her nook and we choose a vampire fiction to read together. I read aloud the story, and she corrected my pronunciation or explained me the story that I couldn't understand. We also had a great time on that day. I'm really happy to join this conversation partners program. I not only get more chance to practice English but also get a new friend."
By Ju I Wang = Kendy 
Comments
comments