I`m Sungmin Song, I study at EC Boston.
This is my writing about Conversation Partners Program.
Also the picture was taken last meeting (another EC student , me , conversation partner Johnny from left in this picture).
Conversation partner Johnny, Jumi, other Korean student at EC Sungmin.
I met my conversation partner Johnny from EC on last Thursday in Allston with Jumi, who is another Korean student at EC Boston. The reason is why we met in Allston is to eat Korean food, because my partner, Johnny has a lot of interests about Korean culture especially food and drink. So it was an interesting time for him.
Most Korean food has lots of ingredients, so they make the food taste spicy. I really worried about these tastes and if it would be too hard to eat for Jonny our volunteer partner. He tried to eat all of the things, like fried octopus with red pepper sauce.
His challenges were pretty interesting for us, and I felt grateful for his attempt. However, the most difficult thing was using chopsticks. Most Koreans use chopsticks not forks and knives, but for Johnny it was too hard to use them. He has used them only a few times. So, using them was more difficult than dealing with the spicy taste.
Anyway, it was a good time for us, and we could understand each other. Also, next week we will go to a pub, which is Johnny`s favorite place, to understand his typical life.
I`m really excited to meet him next week.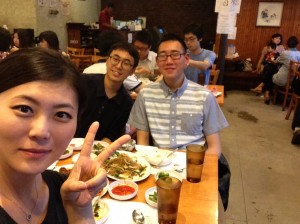 Comments
comments