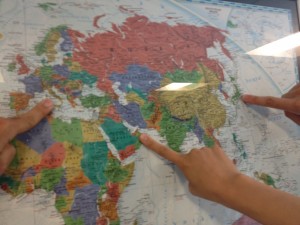 EC Boston students interviewed each other about common misconceptions from their countries. They share their opinions and stories from their own cultures and explore those of others.
Abdullah interviewed Alberto and Satoko: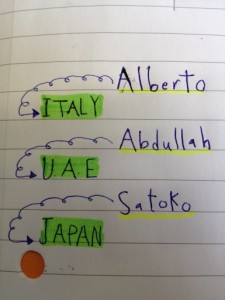 Q: I heard a lot of corruption in Italy, is it true?
A. There are in the south of Italy because of the mafia, but nowadays there isn't a lot.
Q. I think Japanese are very smart, and the education in Japan is very high, what do you think about that?
A. I don't think Japanese are as smart as what people think, and the education is normal. I can say that just around 70% of students go to university.
Q. What about the saying that there are a lot of beautiful girls in Italy?
A. That's right, especially in Melano and the south.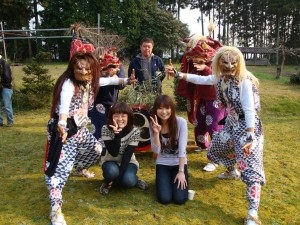 Photo from Satoko in Japan
Satoko asked Abdullah these questions:
Q: How often do you wear traditional Arabic clothes in your country?
— I wear them all the time when I'm out of my house except when I do physical exercise.
Q: Is it common among the people in your country?
— It's very common. However, young generations are changing this custom and some of them wear western clothes.
Q: What was your favorite activity or sports when you were a child?
— My favorite sport was playing football, which is the most popular sport in my country.
Q: What custom of the US do you like the most?
— I like their custom that people shake hands and introduce themselves when they meet people for the first time because it's close to our tradition.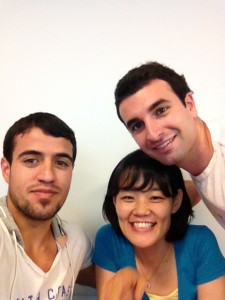 Yongseob Byun asked 3 questions to his Colombian classmate, Helena.
The first one was about education.
In Colombia, there are elementary schools, secondary schools, and universities. Parents have to send their children to go to the elementary school. It's obligation. The elementary school has 5 grades. The children should go to the school for 5 years. After graduating this, they go to the secondary school for 6 years. Then, university has 4 grades. These periods are totally different from Korea except the university course.
Secondly, I asked about music.
There are many kinds of music in Colombia. There are salsa, vallenato, cumbia, corranga, bambuco, currulao, yoropo, and so on. The vallenato is the most famous music in her country. Exactly, Diomedes Diaz is the one of the most famous singers.
The last one is about friendships.
Anyone can make a friend even though they are different ages. It sounds similar to the US. It means a 20-year-old person and a 60-year-old person could be a friend. In Korea, there are friends between same age people. However, if a person meet another person who is younger than him, Koreans do not say that they are friends. It is very complicated to other country's people, but it could work. There is Confucianism in Korea, so they must think about ages in their relationships.
SAUDI ARABIAN EDUCATION, MUSIC AND FRIENDSHIPS 
Helena:  Salman what can you tell me about education in Saudi Arabia?
Salman:  Well, when our country became a nation in 1932, education was for a selected people in Islamic schools. Today it is open to every Saudi citizen.
Helena: Under what jurisdiction is the education system?
Salman: It is mainly under the jurisdiction of the Ministry of Education.
Helena: How many years do Saudi Arabian study?
Salman: Primary education lasts six years. Secondary  education lasts three years, after intermediate education  we receive general and specialized secondary education. Higher education lasts four years.
Helena: How many universities do you have in your country?
Salman:  We have 24 government universities but we also have private colleges, community colleges and girls colleges.
Helena:  How many people are attending universities in the USA?
Salman: More than 100,000 Saudi Arabian are studying in the USA right now.
Helena: What about music?
Salman: The music includes western and traditional music. Khaleeji folk tradition are popular styles.
Helena : Who is the best singer  and the best musician in your country?
Salman:  Mohamed Abdou is the best singer in the Arabian countries and Tarig Abdulakeem is the best musician, he composed the Saudi national anthem and hundreds of songs.
Helena: Tell me something about friendships   Saudi Arabia?
Salman: In Arabia the "girl friend and boy friend relationships" don't exist. If a couple fall in love they get engaged until they get married.
 Valentina and Nehal's Interview: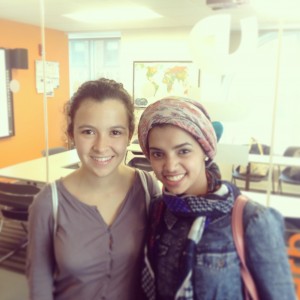 In your country, are politics related to religion?
Nehal: Yes, we live a monarchic system and the king is a Muslim so he follows the religious rules in order to make decisions.
Valentina: Colombia is a catholic country but the politics are not related to Catholic religion.
How is the ceremony of marriage in your country?
Nehal: Men and women are separated in different ballrooms on their wedding day. In the women's ballroom, women don't wear scarfs and they dance for a few hours. When the bride and groom enter the ballroom, women are using their scarfs and they're allowed to see the bride and groom, but men aren't allowed to see them.
Valentina: Most of the weddings are typical catholic ceremonies. Friends and family of the bride and the groom go to the church to be a part of their union. The groom waits for the bride at the altar and when she arrives the ceremony starts. The priest will say his sermon and then the couple will share their vows. When the religious ceremony is over, they go and celebrate.
Is there any typical meal in your country?
Nehal: The most famous dish in Saudi Arabia is rice with lamb or camel meat. For dessert we like dates.
Valentina: Colombians eat everything and the typical food in my country depends on the region. One of the typical dishes in Colombia is rice, which comes with meat, beans, eggs, avocado and pork.  Another typical dish in my country is soup made of three types of potato, with chicken, avocado and corn.
What does your religion think about dating and marriage?
Valentina: I can date many people until I know who is the one that I like.  In the Bible, it is said that people have to be virgin until they get marriage. People who have this religion don't follow what is written. They don't agree because they want to know about the person that they will spend their life with.
Nehal: Women are not allowed to date men before marriage; they can have one boyfriend with whom they'll get married to. Men have to ask to the father of their girlfriends the permission to marry them and they have to be Muslims to get married. If they're from a different religion, they'll have to convert to Islam if they want to marry another Muslim.
5.   How does education work in your country?
Valentina: There are some of public universities that are good but not as good as private universities. Private universities are very expensive.
Nehal: There are public and private schools and universities and they're both good. Also, many people can apply to get government scholarships if they have good results after graduating high school or university so they can travel abroad to continue their education.
Comments
comments