Music, Theatre, and Dance Fans!  See outsidethebox.org!
I want to make sure that every student at EC Boston knows about the great free performing arts festival that begins on Saturday.  There will be over 200 free music and theatre performances in Boston over the next 10 days (July 13-21).
*** Every performance is free!  *** 
Musical groups range from rock to pop to jazz to experimental and just about every other style.  Many of the musicians are famous  or well-known "up-and-coming" performers  in the United States, and some of them are Boston legends.  It would be a shame to miss a lot of these bands even if you had to pay for expensive tickets, but this week and next week they are playing here for free.
Don't miss your chance!  Bands playing include Los Lobos, Alejandro Escovedo, Blind Boys of Alabama, Buffalo Tom, The Mighty Mighty Bosstones, David Wax Museum, Shye Ben Tzur and the Rajasthan Gypsies, Smithsonian Jazz Masterworks Orchestra: A Tribute to Ella Fitzgerald, Taj Mahal Trio, The Lemonheads, and much more.
Theatre and Dance performers include the Commonwealth Shakespeare Company, Touch Performance Art: AcousticaElectronica, The Magic Fish, The Boston Ballet, BoSoma Dance Company, and many others.
There is also a Culinary Stage (chefs cooking food!), jugglers, street performers, and my four-year-old daughter's favorite band, Vanessa Trien & the Jumping Monkeys.
Be sure that you check the schedule of events at outsidetheboxboston.org/timeline every day!  There are too many interesting performers for me to try to list them all, and there are so many things happening each day that it is hard to keep track of them.  A good place to start might be to read the summary at artery.wbur.org.
Feel free to stop by the AY Office on the 6th floor if you have any questions.  The best idea is to ask your friends and teachers for recommendations!  Or just look for something interesting, bring your friends along, and give it a try!
Best wishes (and go see the Lemonheads)!
James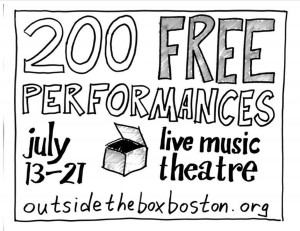 Comments
comments