I would like to highlight a story written by Nathaly, a pre-intermediate student at our school. Nathaly is an extremely hard worker and has moved up multiple levels in the short time she has been here. She started at the beginner level and I still remember the first time we met, how she wasn't able to communicate very easily. I was surprised at how quickly she was able to develop her speaking. How did she do that? In addition to coming to class and studying, Nathaly has made an effort to speak in English at all possible times. As a teacher, I think this is the most valuable and helpful tips that students should consider if they want to continue improving. Although it hasn't been easy, Nathaly has insisted on speaking in English only, even among her Spanish-speaking friends and classmates. Here is a short story she has written. Great job – we are proud of you!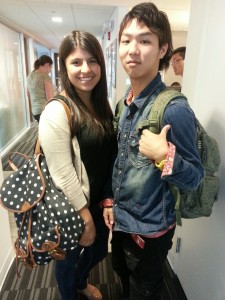 "The holiday of a lifetime"
I would like to tell you my story, but first I want you to know me. I am Lucy, I am 37 years old and I work as a lawyer. I don't like the surprises or the problems. That's why I have a to-do list. I do everything carefully. I have never had problems in my job. I used to work home on holidays, but one day I couldn't. since that moment, my life changed. That day was different. First of all, my alarm didn't ring, so I got up late. Then I went to make coffee, but there wasn't any. I thought "It's just coffee. I will be good."
After that, I went to use my computer, but I didn't have internet so I decided to go to the beach. Yes, I live near the beach, but I have been there about two times because I don't have time. I went to the beach and everything was new for me. People were having fun, people were exercising, people were swimming, and people were relaxing. They were happy.
I started to think about my life because I wasn't feeling happy. I was just a successful woman, but that wasn't everything. Since that time in my holiday, I have been doing plans with my family and friends, and I am happier than before.
Comments
comments