Last week, the students in Intermediate 2A wrote fantastic movie pitches that were so creative I wanted to share with all of EC Boston. Which of these ideas would you most like to see turned into a movie?
Midnight and the Amazing Rabbit: Family movie <- click to watch video!
A smart rabbit that lives in New York going out every day at the same time: midnight. When he does it, he is transformed into a handsome guy and can have a human life.
One night, he met a girl and fell in love with her, but he can just see her at night. So he started to lie to her and they start to date.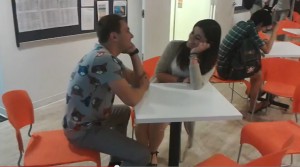 Dead Again: Tragedy
A young couple just got married. However, a terrible accident caused the wife's death. They had made a promise if one of them died, the other would find her soul in the world. After the journey of finding, the man had found the true meaning of life, also their lives.
Unanswered Prayers: Drama
He is a killer. He works in Italian mafia. He is 50 years old. He hasn't been with his family for 20 years. His family lived without him. All his money was sent to his wife and daughter. Daughter has never seen her father. He decide to retire and come back to the family, but before he must do a last job. He sent money for daughter for new car. He said to mafia that he want to go on a rest. So, mafia decided to kill him after the job because he knows a lot. He did his job. They killed him. At that time his daughter have a road accident and died too. He had never seen his daughter. She will never see her father.
Just Lou: Romantic Comedy
A woman has bad luck with love. She tries to get along with all her boyfriends, but in the end things don't work out for her. The story is about how she can find herself and find true love. The ending must be a surprise.
Cast: A famous and charming actress
Special features: romantic location for her boyfriends to broke up with her
No Entry: Horror
There is a house made of crystal glass with a family locked inside. The family can't see what happens outside, but everybody can see what happens inside. Inside the house the family has horrible experiences, they can die at any time.
At the entry there are big letters that say: NO ENTRY. All the world can see the family inside and have the chance to enter to help them, but if you enter it's possible that you could die…
The Family
A big family lives in a big farm in the country. There are the grandparents, the parents, a brother of the wife and 5 children of different ages: 2 males and 3 females.
The film tells the normal life of these people with its events, happy and sad events. The particular focus in on two children: the older son who should become the heir, but he wants to be a theater actor and a writer, and the second daughter who marries a rich man from the city who decides to live in the country and manages the farm with his wife. Happy ending with many bad events: the death of the grandfather and of the uncle in an accident and the third daughter is born deaf.
The moral is: life is good when there is real love that gives permission to each one to be itself.
Alcoholics Anonymous: Drama
Five men without jobs try to maintain their life, but they must find different ways to stop their alcohol addiction. Each one has bad experiences, to be along, health problems, not accepted by society. Finally, they met in alcoholic anonymous center to explain their problems and to survive.
Audience: over 18 due to alcoholics problems
Boy Without a Key: Comedy
A boy came back his house and his family was out of the city, besides he didn't find the key to enter his house then he tries different ways to enter. He tries to use the window on second floor, the roof, through a tree and other ways because his family won't come back for three days. He will go crazy.
Special Features: falls, wounds, acrobats, animal attacks
Comments
comments