This Friday we will celebrate annual Teacher Appreciation day, a holiday meant to highlight all the hard work and dedication teachers put into their work every day of the year.  Have you seen the thank you note writing project on the 5th floor? Drop by and practice your composition skills by thanking one of your favorite teachers, they will appreciate knowing you value their classes and are happy to be their student!
Teacher's Appreciation Day recognizes how much impact a teacher has on each student they teach, and it is a great time to remember that teachers are putting in long hours to make your class a success. They stay up late to plan a fun activity, help you with an essay for a college application, and hang out and talk about what makes you interested in English and how they can help you do better in school. EC Boston teachers really go the extra mile!
Don't forget the second most important part of a classroom though: a student is just as important in the learning process as the teacher. A common phrase in English (and maybe in other languages) is that 'it takes two to tango'. This means that most things in life, especially learning, need two active participants to succeed.  While you are taking time this week to appreciate your teachers makes sure you think about how to make yourself a good student too—come to class on time, do your work, speak up in class and always be respectful. Also, look out this month for the profile of an EC student who became an EC teacher, and has seen both sides of the school!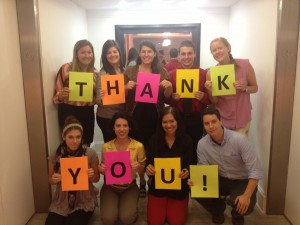 Comments
comments