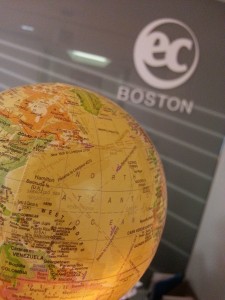 Are you planning to hop on a plane to the Bahamas for break? Many students at EC Boston English School travel extensively during our Holiday vacation, either to their home countries to spend time with family, or to destinations inside the US to blow off some steam and make the most of their stay in the US. Unfortunately, with increased traveling and the opportunity to take time off from school comes the unpleasant task of moderating session breaks to conform to US Immigration Policy.
As all students should know, there are specific terms of your F1 student Visa which require you to study at least 18 hours per week to continue studying inside the US. These immigration policies also state that you must maintain 80% attendance, and only have a session break once every 12 weeks within the country, for a maximum of 2 weeks off. If you leave the country for your session break you are allowed a much longer break, up to 5 months at a time, and do not have to wait until you have studied for 12 weeks.
Constant studying is difficult! The first step to ensuring your breaks are approved and you get to take advantage of the time off you need is to go to class at least 80% of the time.  It's that simple: just go to class. Going to class on a regular basis will help you avoid problems with session breaks, problems with immigration and problems transferring. When you end your course, if your attendance is above 80% we will print you a certificate of course completion.
We do not like having to say no to student requests for session breaks, but immigration policy is a law we cannot break. Please go to class so we can send you on vacation when you want to go!
Comments
comments