When I found out that EC would give me a paid day off to volunteer, I jumped at the opportunity.  Prior to becoming an EC Boston English teacher I was a social worker at Catholic Charities' Laboure Center in South Boston. My job there consisted of helping needy families in the community with basic needs, such as shelter, clothing, food, and financial assistance.
Although all of my clients were always very appreciative of the help with basic needs, we always wanted to give something extra for the holidays. Each year, all donations received for children are organized in a room to make it look like a shopping center. Mothers and fathers come on a designated day to "shop" for a gift for each of their children.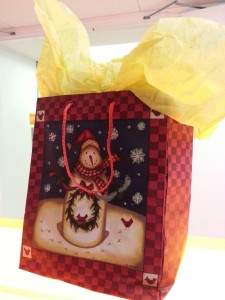 Last Thursday, I was able to to spend the day preparing the "Christmas Shopping Center" and then helping parents to pick a gift for each of their children, as well as supervising the completion of necessary forms. It was a joy to see old clients, but also a difficult experience as I realized so many families in the community are still struggling from day-to-day. Though I have left social work, I'm very lucky to have found a job where I am still able to make a positive difference in individuals' lives at an English school. It is an extra benefit that EC Boston also appreciates helping those in need and will compensate teachers for time we spend volunteering. At the end of the day I truly felt in the spirit of Christmas and was very satisfied with my volunteer experience. Besides, who wouldn't want to be Santa Claus for a day?
Comments
comments