EC Boston hosts a graduation each week in which students are presented with certificates. These certificates acknowledge where a student began, where they ended, and all the hard work in between. As students leave EC Boston, they take with them more than just a certificate though-they also take with them a week, or a month, or even a year's worth of experiences, friendships, new ideas and growth (and sometimes a couple extra suitcases of souvenirs too!).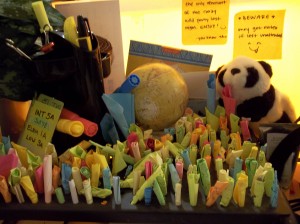 The colorful spirals in the picture above are the 'suitcases' I'll be taking with me: they are rolled up post-it notes I've recorded in the last year. They are messages about everything: elective changes, classes, lunch dates, or crazy computer problems. They are names from Switzerland, Sweden, South Korea, Saudi Arabia and dozens of other countries. They are the students who have passed through our school, the teachers who taught them, the staff who made that possible and everything and everyone else in between. They represent a year's hard work in the colorful, crazy world of EC.
Learn more about English courses at EC, where you can meet friends from around the world!
Comments
comments