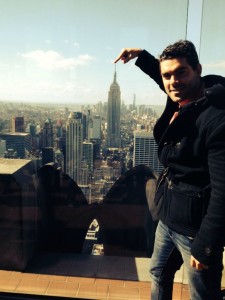 Here is bit of information about Juan in his own words:
I was born in Colombia, South America in the second largest city of the country, Medellin. The morning of September 2nd of 1988. I have been interested in sports and fun outdoor activities like soccer, my favorite. When I went to school, I used to play soccer every day and won championships several times with my high school team.
During my high school years, I discovered that was skilled at math and after that I decided to major in Administrative engineering this was a nice period of my life because I also used to go to my country house to learn about agriculture and cattle raising, which are interesting activities for me.
After high school I had some nice experiences learning English abroad such as one summer camp in Kansas, one trip to learn English in a school near London and a couple of weeks in a community college in ST Louis, Missouri.
During my time in university I changed a lot, I became more mature, I began to spend a long time studying for my professional preparation. Thanks to that I got my first business experience working for a company, Cadena S.A. I did an internship at this company and was employed in the production department for six months.
I was promoted to the commercial department and it was an excellent opportunity to become a better professional and develop leadership skills. I worked for two years at this company until I finally decided to apply to Hult business school a university where I planned to do a masters degree in international Marketing. Last December I was pre-accepted to this university and for that reason I decided to move to Boston and study English because a requirement is getting a 6.5 on the IELTS test. Therefore, right now I am studying at EC Boston and in the next month I will be taking the IELTS test.
Comments
comments