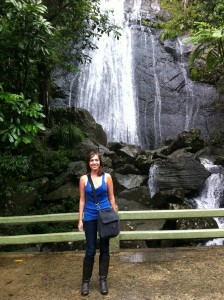 General Background information:
I was born and raised in Mesa, Arizona. I went to the University of Arizona where I studied Italian, Spanish, and a bit of Portuguese (but my skills are pretty rusty!). While I was in school I worked at the front desk of different dorms and loved seeing the residents all the time. After graduating I worked for a company that does standardized testing but I didn't enjoy it. I wanted to go somewhere, get a change of scenery, and do something similar to working in the dorms. I went to Old San Juan, Puerto Rico, where I volunteered at the front desk of a hostel. At first it was hard to adjust to such a drastic change, but ultimately I absolutely loved the experience and decided I wanted to work in another hostel when I returned to the US. I ended up getting a job at a hostel in—you guessed it!—beautiful Boston. Part of the reason I applied to a Boston job was because I had been wanting to transition into the field of international education and this is such a great city for that field, which is how I ended up at EC!
Favorite experience abroad:
Aside from the obvious answer of meeting incredible people in Puerto Rico, I would have to say my favorite experience was seeing 22 Jump Street being filmed right on the street corner by the hostel as well as by the cruise ports I went by pretty much every day. It was so weird (and unexpected) seeing Channing Tatum and Jonah Hill so close to me! The set design was really disorienting because they put up Mexican flags and changed the sign of a restaurant I would see every day to something just for the movie. When I see the movie I will know the truth, that it's really Old San Juan!
Favorite thing about Boston (place, monument, etc):
My favorite place in Boston that I've seen so far would definitely be the Common, especially the Make Way for Ducklings statue. If I'm allowed to cheat and go outside of Boston, the Harvard Museum of Natural History was pretty impressive!
Most memorable moment at EC so far:
My most memorable moment at EC so far was actually when I was waiting for my first interview. There were so many students and everyone was so welcoming and kind. My first thought was that it looked like a great place to work!
Something quirky/odd/interesting about yourself:
On my second night working at the hostel in Puerto Rico I got stuck in the elevator at 3am. I literally thought I would die in there because it was so hot, it was late at night so no one would find me, and the desk phone's battery died while I was calling for help. Ever since then I have been afraid to use an elevator without a charged phone.
Comments
comments