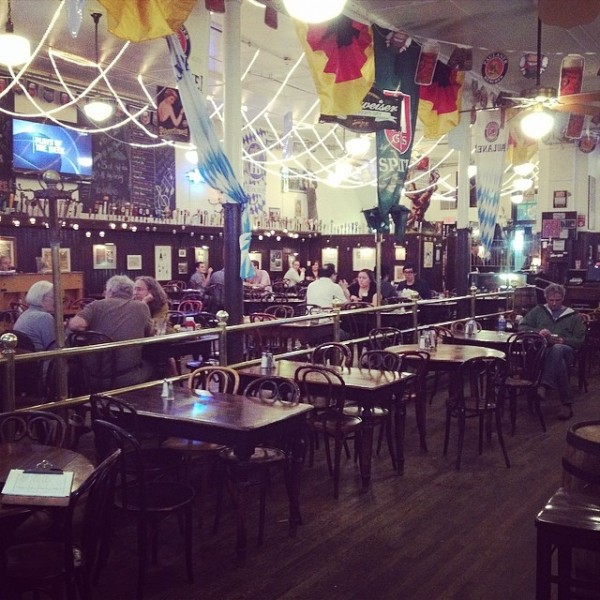 Does the rain have you feeling down? Don't worry – the EC Boston staff is here with suggestions about what to do when it raining outside!
1. See a movie at Coolidge Corner Theatre
Enjoy an old or new movie in Boston's only non-profit independent movie house.
290 Harvard St, Brookline, MA 02446
2. Have Vietnamese pho at Pho Pasteur
What's better on a rainy day than an oversize bowl of soup? Just a 15 minute walk from EC Boston, Pho Pasteur is one of Chinatown's most popular restaurants and maintains a reputation for very quick service and delicious food.
682 Washington St, Boston, MA 02111
3. Visit the Museum of Fine Arts (MFA)
Artsy folk could spend an entire day in the MFA, which is currently home to the works of Hokusai, the first Japanese artist to be recognized internationally. This is the largest collection of Japanese art outside of Japan and will be at the MFA through August. Be sure not to miss it!
465 Huntington Ave, Boston, MA 02115
4. Have a beer and a pretzel at Jacob Wirth.
With an interior that replicates a German beer hall, Jacob Wirth has been in the Theatre District since 1868 has a warm and lively atmosphere that is matched by few others in Boston. The German menu and vast beer selection is an added bonus.
31 Stuart St, Boston, MA 02116
5. Go shopping at the CambridgeSide Galleria
Just a 20 minute commute on the T from EC, the CambridgeSide Galleria is home to 120 brand name stores and restaurants and is entirely indoors. A perfect shopping hub for a drizzly day.
100 Cambridgeside Pl, Cambridge, MA 02141
6.Go on a Harpoon Brewery tour
The Harpoon Brewery (best known for its Harpoon India Pale Ale) is a staple in America's craft beer industry and is located right on the waterfront in Boston's Seaport District. Tours of the brewery are just $5 and include a beer tasting. Check their website for tour hours.
306 Northern Ave, Boston, MA 02210
7. Tour the Taza Chocolate Factory
Learn how the Taza Chocolate Factory makes it's delicious and rich Stone Ground, Mexican-style organic dark chocolate. Tours are $6 per pereson include samples and a peak at their vintage chocolate making machines. Online reservations are required – visit Taza's website to make a reservation.
561 Windsor St, Somerville, MA 02143
8. Go bowling at King's
A trip to King's can take your dreary, rainy night into an evening full of friends, games, music, food and cocktails. Located right in the hear of Back Bay, this retro-modern bowling alley has become a source of entertainment for Bostonians over the last 13 years.
50 Dalton St, Boston, MA 02115
9. Jazz music at Wally's Cafe
One of the coziest spots in Boston, Wally's Cafe is a small jazz and blues club located just a short walk from the Mass Ave T stop and is one of the oldest family owned and operated jazz clubs in existence. Did I mention Wally's has live music 365 days a week?
427 Massachusetts Ave, Boston, MA 02118
10. Curl up with a book at the Boston Public Library (BPL)
The Boston Public library is located just off the Copley T stop and has hundreds of little nooks you can take your favorite book to and read on a rainy afternoon. The BPL is beautiful and has served as scenery in many famous movies such as Pink Panther 2,
700 Boylston St, Boston, MA 02116
Learn more about Boston English.
Comments
comments