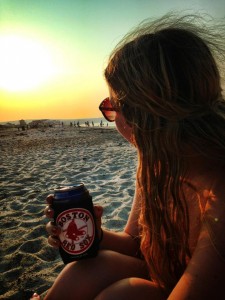 With its sandy white beaches, miles of shoreline and New England culture and cuisine, Cape Cod is a global (but especially Boston) summer destination. Below you will find some tips and information about Cape Cod in the summer time.
How to get there:
The MBTA created a new train line called the CapeFlyer which offers service to Buzzard's Bay and Hyannis. The cost is about $35 round trip. Note that it only offers service on the weekends.
There is also a bus from South Station to Cape Cod through the Plymouth and Brockton bus company for $34 round trip. Peter Pan also offers rides from South Station for about $50 round trip.
Students can take a ferry (boat) from Bay State Cruise Company from Boston Harbor to Provincetown for $46 round trip for a 3.5 hour ride, or $85 for 1.5 hour ride.
Lastly, students can rent a car through many car rental companies such as Avis, through which we have a discount.
Places to stay:
I would suggest Air BnB for affordable, interesting and great accommodations. It's also safe and can be a great way to meet people from all over!
If Air BnB doesn't float your boat, there are a number of Hostels on the Cape such as the Hyannis Hostel. Hostels are an inexpensive option and a great way to meet people from all over the world.
Things to do:
Once you arrive, Cape Cod offers a bus that travels around the Cape. There are 115 beaches on the cape, but the best ones are those facing Boston, such as Buzzard's Bay. The water is warmer and the surf is calmer (there aren't as many waves).
I would recommend a Whale Watch Tour – the best place to go for this is in Provincetown at a place called Race Point. There is also a great bike trail around the Cape, as well as the Cape Cod Maritime Museum.
Cape Cod Beer – enjoy a brew tour in a local brewery that works with local farmers and gives back to the community! Plus – there's a hot dog truck right outside the brewery.
Main Street Hyannis – walk through Main Street in Hyannis, see the sights, and do some shopping!
Boat tours – there are many cruise companies that offer boat rides around the Cape such as Bay Spirit Tours and Hy-Line Cruises.
Visit a lighthouse! Lighthouses are a New England staple. Find more info here: http://www.capecodlighthouses.info/
Now get out there and explore!
Comments
comments