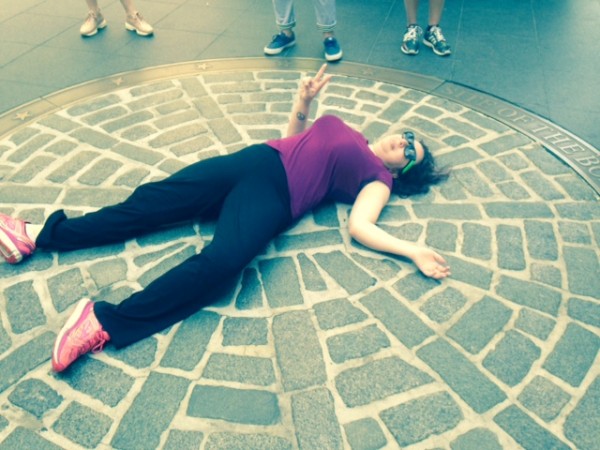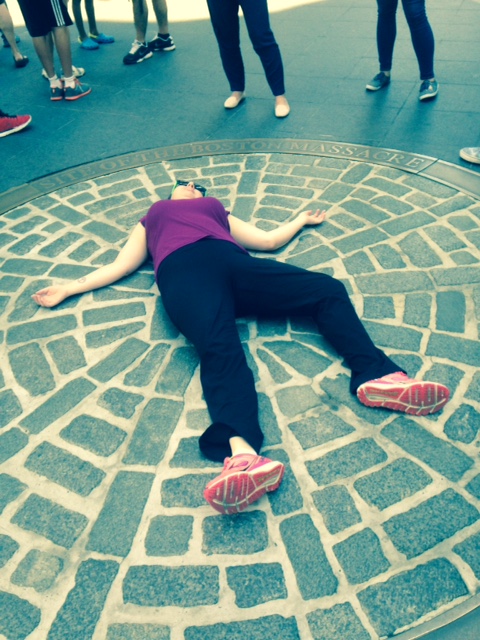 Jenna's English in the City class visited the site of the Boston Massacre this week! There, teacher Jenna laid down at the site and the students took photos and role played as the different historical figures who were involved and live-tweeted about the Massacre.
Boston Massacre Tweets
Written by Paul Revere and Sam Adams
When I passed through the State House I saw a boy who shouted "I'm dying" and he was bleeing on his head. People were gathering.
British soldiers started shooting us, innocent Bostonians! Come and help us! #GodhelpAmerica @State House
"Damn you, fire!" Don't let the British steal your honor. Gather around and fight for your rights!
Written by the British soldiers
It's evening now. I'm still on duty. There's a bunch of teenagers yelling at my colleague. #KingStreet
I feel scared because the snow they threw really hurt me. One of my colleagues fell down and accidentally fired his weapon into the crowd. #gangsta
Finally, Governor Thomas Hutchinson #boss came here. He got everyone to leave. He asked me to talk with him about what happened.
Written by the Boston teens who started the chaos
On my way home from work I bumped into a British soldier. He kept bothering me so I told him his Mom was ugly and he hit me in the head #whatajerk
Let's fiiiiiiiiiiiiight guys! #hitinthehead #kickinthenuts #bestthingever #followforfollow #instalove #endlessfun
5 guys dead! The stupid governor came and brought more sheep with him. So the crowd broke up! #endoftheparty #whatashame
Find out about learning English in Boston.
Comments
comments