The squares of Cambridge and Somerville
By Marlayna Urbanski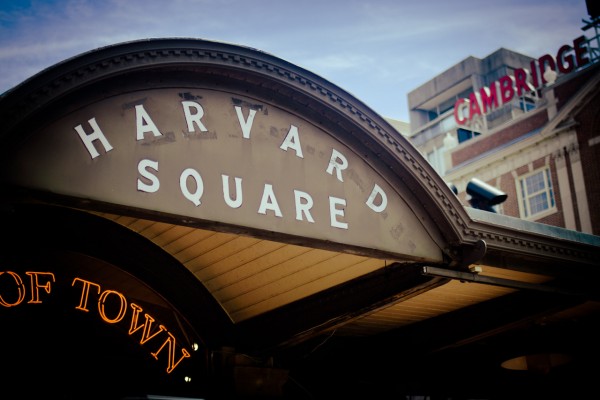 As you become accustomed to living in Boston you will notice that after the red line crosses the Charles river, the stops correspond to "Squares" found throughout Cambridge and Somerville. How many squares are there? Who knows? There are certain parts of Cambridge where it seems every intersection is a square commemorating a member of the neighborhood. However there are some you should really know about because this is where all the fun happens!
On the T
Davis Sq.
Davis Sq. has become the place to go in Somerville for delicious food and weird art. Spend some time here and you might catch an impromptu performance by one of the activist marching bands of Honk!, see a zombie parade, or visit one of the most unique art museums in the country, The Museum of Bad Art, conveniently located in the basement of the Somerville theater.
Best food: It's hard to say, there are A LOT of choices catering to every price range and they are all good. But if there was ever a place the embodied the spirit of Davis Sq. it would be the hugely popular Redbones BBQ. With its bicycle valet service and funky murals, not to mention the delicious ribs and extensive beer menu, Redbones has been a staple of Davis Sq. for years.
Best Secret: Cocktail connoisseurs swear by Saloon but good luck finding it!
Porter Sq.
Long overlooked as a destination by many visitors to Boston, Porter Sq. Has a distinctly local vibe but don't be fooled! There is a lot going on in the little square that could.
Best Food: For many years, Porter Sq. has been the place in Cambridge to go for all things Asian and this continues to be the case. For top notch ramen you can brave the insanely long lines at Yume Wo Katare the place that kicked off the ramen craze on this side of the river.
Best Secret: For those of you who don't care to wait hours for ramen and would like a little more choice in what to eat, head to the Asian food stalls in the Lesley College Building. There is a place for every taste, ramen included!
Harvard Sq.
Perhaps the most popular Square in all of Cambridge, there's tons of places to rub noses with all those connected Harvard students as well as to re-live your favorite scene from one of the many movies filmed in the area.
Best Food: Since it came on the scene, Russell House Tavern has been the place to come for food and drink. Although it can be a little on the pricy side, there is no such thing as a bad meal here.
Best Secret: Can't get enough of those Mike's Pastry cannoli's but don't want to wait in that crazy long line at the North End Store? Welcome to Mike's Pastry Harvard Sq. This outpost of the legendary North End location was just opened very recently so you can still just walk right in and get your pastry fix with no line and no waiting, but beware! They only take cash.
Central Sq.
Central is right in the middle of Harvard and MIT so naturally there are going to be a lot of bars for those hard working geniuses to let off some steam. Make sure you stop by the Middle East which has been hosting live music since 1987. Many famous names in the music industry today got their start playing on one of the 3 stages there.
Best Food: Cambridge is quickly becoming the place to go for all things veggie. Life Alive has an amazing juice bar and Veggie Galaxy reimagines diner food for the non-meat eating crowd. But if you want the best go to Clover. Their ingredients are the freshest and most in-season and the food is so delicious you won't even miss the meat!
Best Secret: If you are feeling a little more high class than PBR at the rock concert then head to Brick and Mortar for some serious cocktails. This place is a heaven for mixologists so just tell them your favorite liquor and what you feel like and they will make something for you!
Kendall Sq.
Not too long ago this little square was the sleepy little place where you only went to catch a movie, maybe play some pool and have a couple beers at Cambridge Brewing Company, but my how things have changed. The geeks of MIT and the local think tanks now have to share their square with the rest of the world and Kendall has become a foodie destination du jour.
Best food: There are a lot of really fancy places in Kendall but a favorite for many is the Friendly Toast. Known for its eclectic décor and breakfast all day, this place is great for a lazy Sunday brunch.
Best Secret: The rooftop garden at Cambridge Center is the very best place in the city for a picnic so grab some food from the food trucks nearby and head on over!
Two Gems off the beaten path
Inman Sq. Cambridge
Located about a 15 minute walk from Central Sq. Inman definitely reflects its location right on the line between Cambridge and Somerville. This is the place where the techies and the artists collide with some pretty amazing results
Best Food: Midwest Grill – Inman Sq. has been strongly influenced by Portuguese and Brazilian immigrants to the city and some of the best Portuguese restaurants in the city are found here. Nowhere is that more apparent than the Midwest Grill which has been serving up Churrascaria (aka Brazilian BBQ) since 1993.
Best Secret: It's not a real secret but the very best ice cream in all of Cambridge can be found at Christina's. Try the chocolate banana, it's amazing.
Want to study near Cambridge? Learn more about our Bosto language center.
Comments
comments