In honor of Thanksgiving month, we are going to do "Thanksgiving Food of the Day Friday." Each blog post on a Friday from now until Thanksgiving will feature a traditional American Thanksgiving dish, it's history and a recipe so you can try it yourself!
Today's Thanksgiving Food of the Day is…candied yams!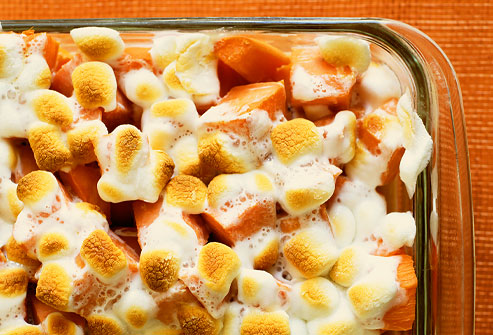 Candied yams are more or less sweet potatoes baked with marshmallows on top. For those who have never experienced a traditional American Thanksgiving, this may sound odd to you. However, this is a staple in many households at this time of year. Although it sounds like a dessert dish, it is usually served alongside the main dishes as a side.
Although this dish was not present at the first Thanksgiving, it's thought to have originated back in the early 1900's. Sweet potato pudding recipes were found in cookbooks in the 1800's, and the first recipe featuring candied yams topped with marshmallows was published in 1917.
Here is a classic recipe for candied yams topped with marshmallows for you to try yourself this Thanksgiving as found on allrecipes.com.
Candied Yams Recipe
Ingredients
1 (29 ounce) can of sweet potatoes
1/4 cup of butter, cut into pieces
1/2 cup of brown sugar
1 1/2 cup of miniature marshmallows
Directions
Preheat oven to 400 degrees F
Place sweet potatoes in a medium baking dish. Distribute butter pieces evenly over the sweet potatoes. Sprinkle with brown sugar. Layer with miniature marshmallows.
Bake in the preheated oven 25 minutes, or until sweet potatoes are tender and marshmallows have melted.
Do you want to study in the USA to learn English? EC has locations all over the US in Boston, New York City, Miami, San Diego, San Francisco, Los Angeles and more.
Comments
comments