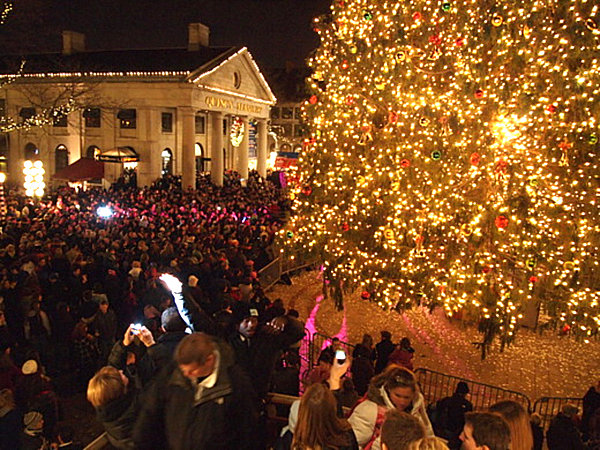 'Tis the season!
The annual Faneuil Hall Christmas Tree lighting will take place this Saturday evening, November 21st, at 7 p.m. (Just a few steps away from our Boston center!) Many of you have probably seen the tree being put up on your way to class, but for those of you who haven't, please note that the tree is located on the opposite side of Faneuil Hall from EC Boston (closer to the harbor).
There will be plenty of entertainment throughout the night. The Blue Man Group as well as the Boston Ballet will be performing at the ceremony, as well as the Boston Children's Choir and the Boston Gay Men's Chorus. Prior to the lighting, there will be various events and performances going on in the area leading up and once the tree lighting has concluded, the Sugarbabies Band will be putting on a show.
All performances aside, the tree itself will be a source of entertainment – standing 85-feet tall, this Norwegian spruce will be lit up by 30,000 lights. Throughout the month of December, there will be free light and sound shows in Faneuil Hall which includes 350,000 LED lights (yes, you read that number correctly).
Do you want to study in the USA to learn English? Consider EC Boston as your destination! We are located right in Faneuil Hall, a top Boston destination for visitors.
Comments
comments