Happy Friday! And welcome to the last edition of Food of the Day Friday. If you are planning to study in the USA to learn English in Boston during the fall to see the beautiful foliage, you must know that Thanksgiving is a nationwide holiday that takes place at the end of November. We want to make sure you're prepared to know what will be waiting for you on the table if you are spending it with a host family or American friend, or what you should make or how you can make it if you are trying to host yourself.
This week's food is green bean casserole.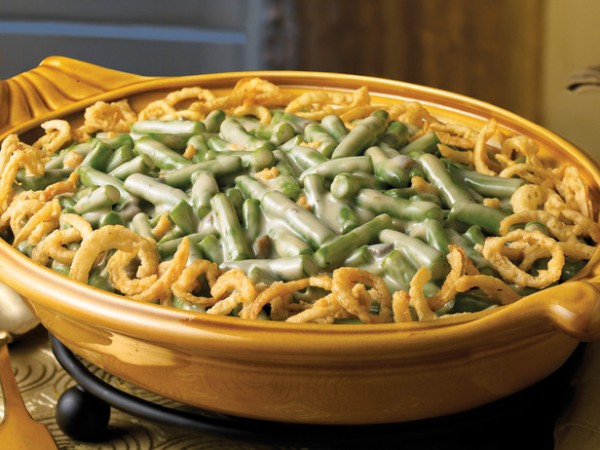 The key ingredient to green bean casserole is not what you'd expect, because it's left out of the name. French's Fried Onions give this mushy dish the crunch it needs.
Although there are many fancy variations of this recipe, many households use the Campbell's Classic Green Bean Casserole recipe as it is easy, quick and cheap! Find it below.
Ingredients
1 can (10 1/2 ounces) Campbell's® Condensed Cream of Mushroom Soup or (10 1/2 ounces) Campbell's® Condensed 98% Fat Free Cream of Mushroom Soup or (10 1/2 ounces) Campbell's® Healthy Request®
Condensed Cream of Mushroom Soup
1/2 cup milk
1 teaspoon soy sauce
1 dash black pepper
4 cups cooked cut green beans
1 1/3 cups French's® French Fried Onions
Directions
Stir the soup, milk, soy sauce, black pepper, beans and 2/3 cup onions in a 1 1/2-quart casserole.
2 Bake at 350°F. for 25 minutes or until the bean mixture is hot and bubbling. Stir the bean mixture. Sprinkle with the remaining onions.
3 Bake for 5 minutes or until the onions are golden brown.
Although we have mainly talked side dishes every Friday, don't forget – there's no good dinner without good desserts. Two popular desserts you'll want to keep your eye out for are pumpkin pie and pecan pie. Top them with whipped cream or eat them with a scoop of ice cream and voila…you've had your first traditional American Thanksgiving. (Don't forget to watch the football games!)
Comments
comments