by Doris Domingo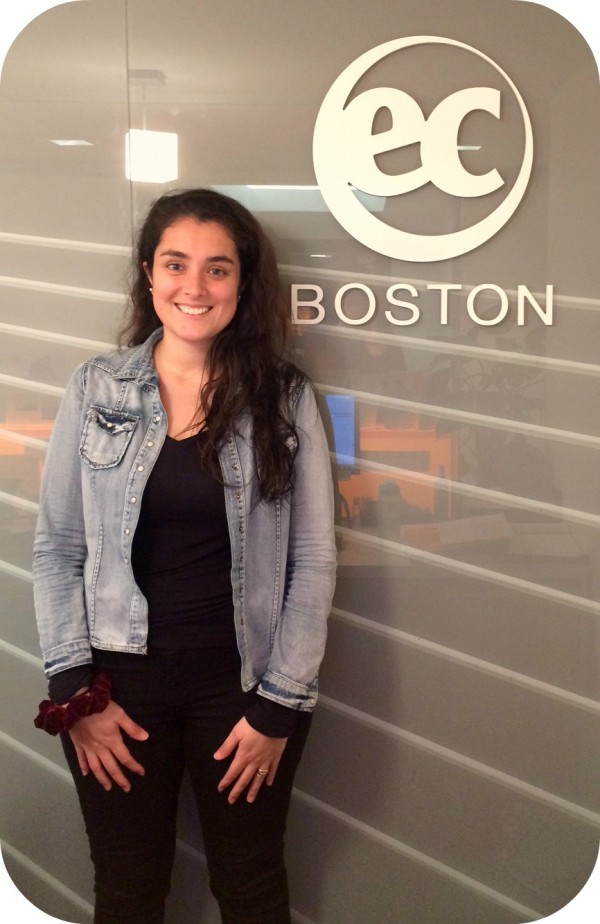 D: Hi Natalia, first of all, thank you for your time to take this interview for our EC Boston Blog. So, let's start with an easy question: Why did you choose Boston?
N: Firstly, I chose Boston because the city has a rich history, and you can find many historical places and monuments. It is a beautiful, clean and fun city. It is the perfect size city: not too big, like New York City and not too small.
And secondly, Boston has a very good reputation for their education institutes and culture. It is a city with many students, so much fun!
D: What have you learned so far at EC Boston?
N: I am learning and improving my English every day. But I think the most important thing is to realize that you can successfully communicate in another language and other people can understand you!
D: Do you feel that you are improving your English here at EC Boston?
N: I'm very happy, I have only been here at EC Boston for one month and a half and I have moved up two levels, from low intermediate to high intermediate! I hope to continue improving my English every day!
D: Oh wow, congratulations! That is great! And what has been your favorite EC Activity so far?
N: Definitely, the 2015 Student Christmas Party with ugly sweaters. It was amazing! We had a lot of fun!
D: What do you like the most about the school and the lessons?
N: I like the location of the school, its perfect! Right in the heart of Boston. The teachers and staff are great. They are always willing to help you. Every day they give you a big smile and encourage you to continue improving your English.
D: What do you like most about your accommodation?
N: I am living in an EC apartment in the North End, it's really close to school. It is walking distance, it takes me only 6 minutes to get to class! It's awesome! I share the apartment with other four EC students, they are my family in Boston!
D: I'm very happy to hear that! Thank you so much for your time and see you around the school!
Learn more about Intensive English courses in Boston.
Comments
comments