Happy (almost) New Year, everyone! Here is EC Boston's Activity Calendar for the month of January.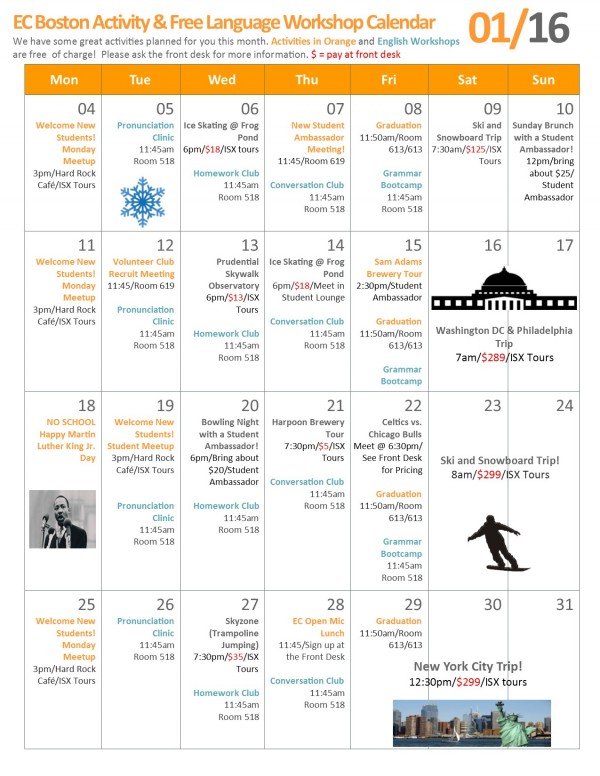 We have a new group of Student Ambassadors starting up this month and they will be leading the majority of the activities in January. This is a great way for you to get to know your fellow students, learn more about Boston, use your English outside of class and, of course, have fun.
The New Student Meetup is a new activity, which will be held every week on New Student Day. At 3pm, you can head over to the Hardrock Cafe, where you will meet with students from many other ESL schools in the city to chat and have lunch together. We highly recommend new students attend this activity and it is also open to current students.
We also have several weekend trips coming up: Washington DC and Philadelphia, New York City and a Ski & Snowboard trip. Our day trips include the Prudential Skywalk, a couple brewery tours, an EC Open Mic Lunch, bowling night and the list goes on. Don't forget, if you like an activity, head to the 4th floor and write your name on the sign-up sheet below the activity. Then, show up at the time listed on the 5th Floor Student Lounge unless otherwise specified.
We hope you all have a great start to 2016 in Boston! Please see our Activities Coordinator, Nikita, if you have any questions or suggestions.
Learn more about Intensive English courses in Boston.
Comments
comments