By Jennifer Lacano
Are you still looking for something to do this New Year's Eve or New Year's Day? Check out Boston's First Night/First Day festivities! The fun starts at noon on New Year's Eve and continues past midnight. It picks up again at 11:00 am on New Year's Day. (They had to give people some time to sleep!) And most of the events are FREE! Here is some information from their website, http://www.firstnightboston.org/  (you can also visit https://www.facebook.com/FirstNightBoston )
The majority of the First Night First Day's activities will be held in Boston's Copley Square. Partner programming will occur during similar hours at the Prudential Center, Boston Public Library, the Old South Church and Copley Place. Additional activities can be found on the Boston Common, along the Freedom Trail, and in the Seaport District.
There will be artistic and musical performances covering Boston's diverse culture and talent, ice sculptures, light displays, fireworks, a Procession, and many other entertaining activities. To see our full list of events, locations and times please visit the Schedule page. (http://www.firstnightboston.org/schedule/)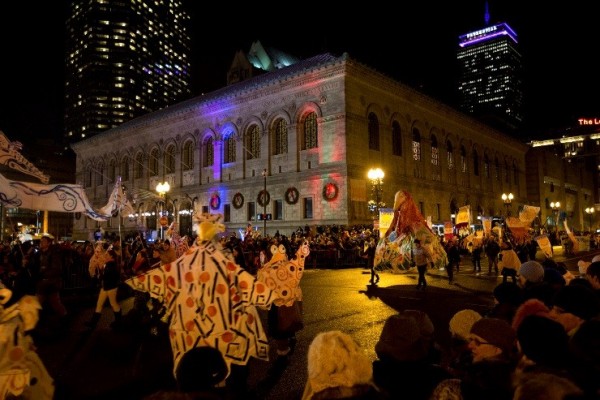 We encourage folks to join the People's Procession starting at 6:00 PM on the 31st, marching from Copley Square to the Common, with dancing along both sides of Boylston. The main stage at Copley Square will also feature a variety of bands on First Night to welcome in the New Year until 12:30 AM. Dancing is encouraged.
There will be fireworks… twice! The family-friendly fireworks display will take place on the Boston Common at 7:00 PM on December 31st. You may also ring in the New Year with the traditional fireworks display over Boston Harbor at Midnight.
Parking will be limited, but the T will be running extended service until 2:00 am. Best of all, the subway is free after 8:00 pm! 
If you're looking to start early on the afternoon of the 31st, you can also find some fun events right outside our doorstep!
œMix 104.1 New Year's Eve with Gregg Daniels
Faneuil Hall Marketplace
December 31, 2015 – 2:00 – 4:00 PM
Learn more about Intensive English classes in Boston.
Comments
comments