We are excited to announce our April activities! Please check out the activities for this month and sign up on EC online or at the front desk with Christina or Stephen.
Some of our fun activities this month include: Fenway stadium tour, international film festival, Harvard tour, Prudential skywalk, Museum of Fine Arts, a Red Sox game, and seeing a movie at AMC.
Activities are a great way to make new friends and explore the city of Boston! Follow us on Instagram and Facebook for more information and details!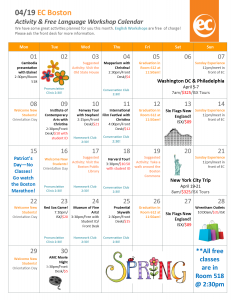 Stop by reception anytime at the EC Boston School of English to find out more about the latest activities planned.
Comments
comments