Today I want to talk about the best 5 activities to do in Boston:
During a sunny day, there is nothing better to do than to walk through the streets and parks of the city, for example you can start from Quincy Market, walk to Faneuil Hall, which is a significant site for America's history. After that you can walk to the Boston Common, which is about 10 minutes to walk from Faneuil Hall. While walking, you will see the Old State House, another important historical site of the city. Get into the park and walk around following its trails, you can also sit on a bench and admire the nature around you. Once you feel you're ready to move, walk to the Charles River Esplanade, which is about 15-20 minutes from the Boston Common. Walking along the Charles River is something very special, especially now, that the spring is coming, there will be a lot of flowers around, so get ready to take magnificent pictures. The following place is also pretty nice, Copley Square is one of my favorite places in Boston, because on one side there is the Boston Public Library, in which I recommend to go inside and look around, and on the other side of the square you can admire Trinity Church. The part that I like more is the contrast between the old church and the glass skyscraper on the other side of St James Ave. Close to Copley Square there is Newbury Street, which is the shopping street. Here you can find a lot of famous stores.
I have to say that I'm not a really big fan of art, but the Museum of Fine Arts is absolutely a place to visit, in the museum you can find a lot of different types and time periods of art exhibitions. Not only can you find a lot of paintings, but there are also some ancient Egyptians, Romans, Greek, and others' statues and antiques. If you decide to visit the museum but you don't want to pay, make sure you're going on Wednesday after 4pm, because the entrance is free. Getting to the museum is really easy, you can get there by the Green Line, just make sure to be on the Heath Street Line (E line) and the stop is Museum of Fine Arts. From there you just walk across the street and you will see a huge building which is the museum.
Another great museum is the Isabella Stewart Gardner Museum, which is where this woman used to live. The
 museum is particularly famous because in 1990, 13 works of art have been stolen from it, and they are still missing. So, when you walk through the different rooms, you can feel a sense of mystery in the air. In the museum there are a lot of works of art from a lot of different cultures. It is the same way to get there as the Museum of Fine Arts, Green Line (E line), and from the Museum of Fine Arts stop it is about 5 minutes to walk.
I really like sports in general, but probably ice hockey is my favorite, to watch and to practice. If you're like me and you like sports, make sure to go to the TD Garden and watch an ice hockey (Boston Bruins) or basketball (Boston Celtics) game. If you like baseball, the Boston Red Sox play at Fenway Park and if you are here during the NFL season (American football), make sure to go to the Gillette Stadium and watch the New England Patriots.
Finally, in my top 5 activities, I can't leave Harvard and MIT out. These are two of the most famous and best universities worldwide. A tour of the Harvard campus is a must. The MIT museum is really interesting if you like the engineering/technological field, and Harvard has a lot of different kinds of museums, from art to natural history, and more. You can get there by using the Red Line.
This is just a selection of some of my favorite activities, and of course there are a lot more things to do in the city and also in its neighborhoods, so, for any questions come by and ask.
See you around!
-Lorenzo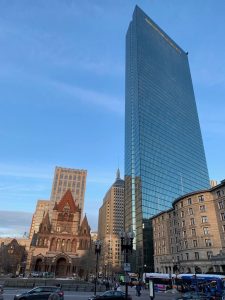 Comments
comments