Our May 2019 student activity calendar is up! We have many exciting activities and events planned for this month and hope you will join us. Some activities include a Harvard University tour, Prudential Skywalk visit, Mapparium, AMC movie night, and going to the Museum of Fine Arts.
ISX is hosting many weekend trips this month including Salem Witch City, Six Flags, Niagara Falls, and New York City.
As always, you can sign up for activities on EC Online or at the front desk with Stephen or Christina!
Check out our website to see what courses and activities we offer each month https://www.ecenglish.com/en/school-locations/usa/learn-english-in-boston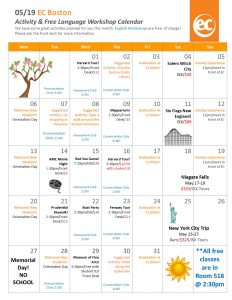 Comments
comments