On Sunday, our wonderful Peter took the new students out to lunch, and he shared with us a few kind words about what happened: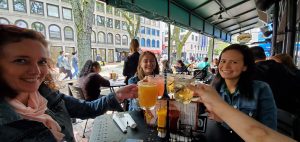 Two students joined a friend and I for a wonderful lunch and mini-tour on Sunday, each from one of EC's student accommodations. After an American-style lunch at Cheers, we walked through downtown, got SIM cards for phones (and danced salsa while waiting in the store), got transportation passes, and visited the oldest public park in the US. After, the students went shopping together.
Sunday Experience is a great and easy way for new students to meet others and learn a little about their new "home-away-from-home."
Do you want a warm welcome to your EC Experience? Don't hesitate and look at all of our courses online at EC Boston!
Comments
comments